We have two episodes left in the first season of Black Lightning, and even with the news of the series being renewed for a second season, there are still a lot of questions about this one. We know that there is going to be a big showdown between Black Lightning (Cress Williams) and Tobias Whale (Marvin Jones III) and that both sides will be getting help, but it looks like things are going to carry over to the finale as well.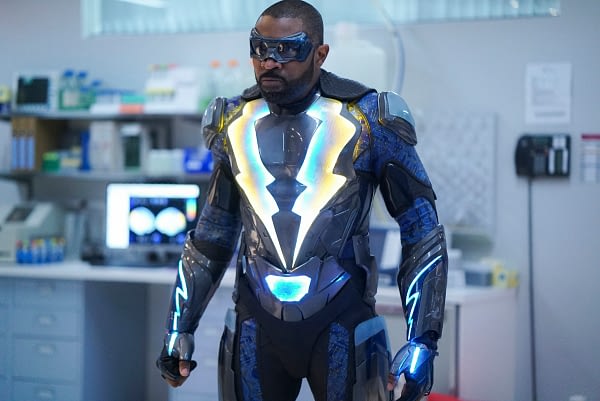 The show has built up an interesting cast of characters and plot lines. They've also given us quite a few villains in Whale, Lala (William Catlett), Porter (Gregg Henry), Fowdy (Skye P. Marshall), and of course Lady Eve (Jill Scott) — but we've already seen what happens to her. I would expect that some of them, like Porter and the ASA may just carry over into season 2, since it ties so much into Gambi (James Remar) and how Jefferson got his powers.
BLACK LIGHTNING
"Shadow of Death: The Book of War"

THE SHOWDOWN – The aftermath of the showdown with Black Lightning (Cress Williams) leaves everyone reeling. Meanwhile, Tobias (Marvin Jones III) gathers his forces.  Nafessa Williams, China Anne McClain, Christine Adams and Damon Gupton also star. The episode was written by Charles D. Holland and directed by Salim Akil (#113). Original airdate 4/17/2018.
Black Lightning airs Tuesdays at 9 p.m. ET on The CW. The season finale airs April 17th.
Source: SpoilerTV