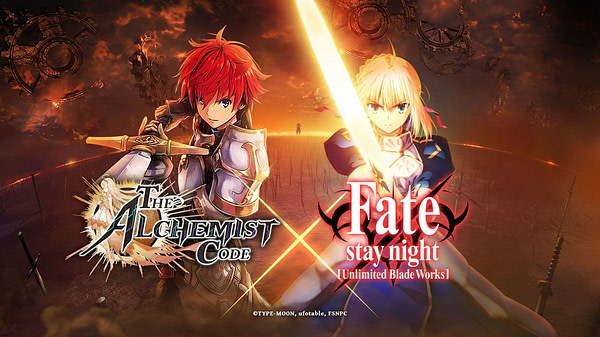 Gumi announced this week that their mobile strategy RPG The Alchemist Code is getting a crossover with the Fate/stay night Unlimited Blade Works anime, allowing fans to summon their favorite characters from the show into The Alchemist Code. The collaboration will start on April 5th and run through to May 2nd, 2018, giving players a month to collect all the new Fate/ themed content.
Not to be confused with any other variation of the Fate/, brand, Fate/ stay night Unlimited Blade Works is a 2014-2015 anime based on the video-game visual novel of Fate/ stay night by Type-Moon. The anime was based off the Unlimted Blade Works route of the video game, meaning that the specificity of the crossover with The Alchemist Code means we'll be seeing quite a bit of Rin Tohsaka and the Heroic Spirit EMIYA, otherwise known as Archer.
The Collaboration allows players to snag Archer for free and pick up the four additional event units- Saber, Gilgamesh, Rin Tohsaka, and Illyasviel von Einsburn by chance. There are also three special crossover units which give Alchemist Code characters Fate/ style Servant classes.
You can check out the full event details below:
Collaboration Event Units
Get Archer for free by playing THE ALCHEMIST CODE during this event. A strong and reliable unit, Archer could be the essential unit worth adding to a player's party. Furthermore, earn Archer Soul Shards – items needed to enhance Archer's abilities – by playing through the Fate/stay night [Unlimited Blade Works] main event quest!

During this event, players will have the chance to also summon these fan-favorite Fate/stay night [Unlimited Blade Works] Masters and Servants:

Saber
Gilgamesh
Rin Tohsaka
Illyasviel 

Collaboration Event Items
During this event, iconic weapons and items, as seen in Fate/stay night [Unlimited Blade Works] may be transmuted and summoned by the player, including:

Saber's Excalibur
Archer's Kanshou & Bakuya Swords
Gilgamesh's Gate Of Babylon
Rin Tohsaka's Pendant
Illyasviel's Storchritter

Special Collaboration Units
During this event, players will have a chance to summon three special collaboration units — a fusion of THE ALCHEMIST CODE characters with Fate/stay night [Unlimited Blade Works] Servant Classes:

Rider Yomi
Saber Lamia
Archer Zahar

Max-out these characters to unlock their unique Fate/stay night Servant Classes such as Lancer, Berserker, and Assassin to name a few!
The Alchemist Code is a free-to-play mobile game available through the App Store, Google Play and on the Amazon App Store.