X-O Manowar #13
{{ reviewsOverall }} / 10
Users
(0 votes)
Summary
Writer: Matt Kindt, Artist: Ryan Bodenheim, Color Artist: Andrew Dalhouse, Letters: Dave Sharpe, Cover by: Lewis Larosa and Diego Rodriguez, Variant Covers by: Giuseppe Camuncoli and Gabe Eltaeb; Ryan Bodenheim and Andrew Dalhouse; Ariel Olivetti; Howard Chaykin and Dean White, Assistant Editor: David Menchel, Editor-in-Chief: Warren Simons, Publisher: Valiant Entertainment, Release Date: Out Now, Price: $3.99
Aric has the armor back, but it brings back memories of the last time he was on Earth. He must brush these memories aside, as the bounty hunters intend to finish the job they started. This is the final battle of Manowar on Gorin.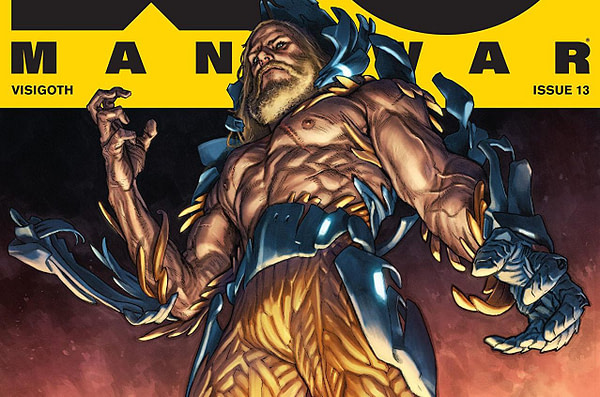 X-O Manowar #13 finally has Aric cutting loose once more with the armor at full power. It's just him and a cadre of bounty hunters. This makes for a cathartic climax to the past few issues, which have found Aric getting beaten and humiliated by mercenaries hired by his alleged allies.
The revelation of why Aric left Earth is a gut-wrenching truth unto itself, and it explains Aric's reticence to use the Manowar armor. It all works very well.
The finale to all of this is a more uplifting than one might expect. Despite the absolute havoc seen across Gorin in recent issues, as Aric proved a wanting leader for the people of this planet. However, things aren't as bad as they initially seemed, and Schon gives Aric some comfort before he leaves the planet.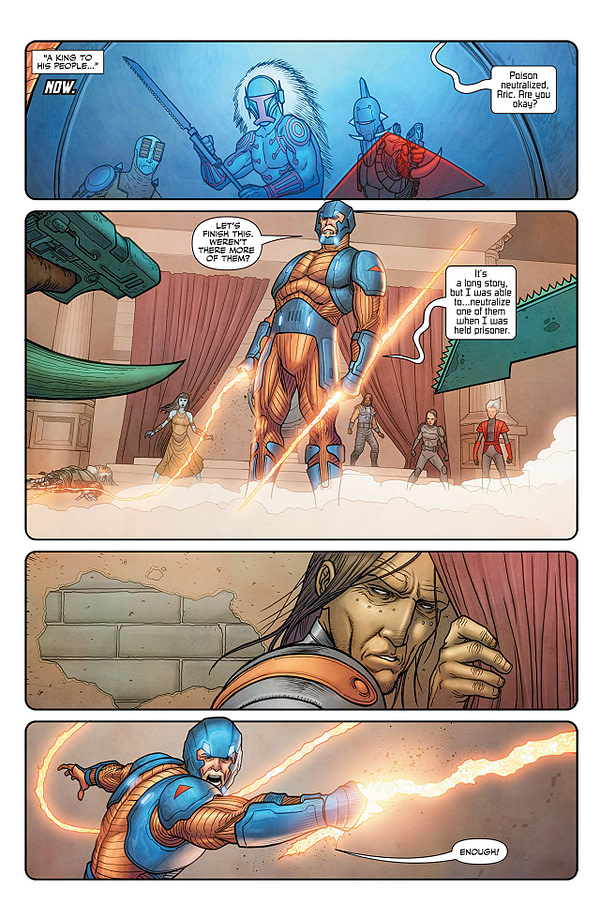 Ryan Bodenheim's artwork brings the battle of this issue to brilliant life, taking full advantage of the awesome visual design of Aric's armor as well as its full range of weapons. Andrew Dalhouse keeps the color palette bright and saturated. It's actually too bright in this issue and could use some dark contrasting, but this problem doesn't kill the aesthetics. It's still a good-looking comic book.
X-O Manowar #13 is a high-flying and epic finale to Aric's time on Gorin, and it's jam-packed with emotional weight, exciting action, and solid artwork. Matt Kindt's run on this character continues to impress. Bodenheim and Dalhouse's artwork is solid too. This one gets a recommendation. Check it out.
What people say... Leave your rating
Order by:
Be the first to leave a review.
Show more