Matthew Snyder writes for Bleeding Cool, promoted from the comments:
Welcome to the Comixology Bestseller list, your guide to see how well your favorite titles are selling digitally. Every week I'll post the Top 75 new titles, plus a ranking of the volumes currently on sale. As always, I hope you'll find it interesting and informative.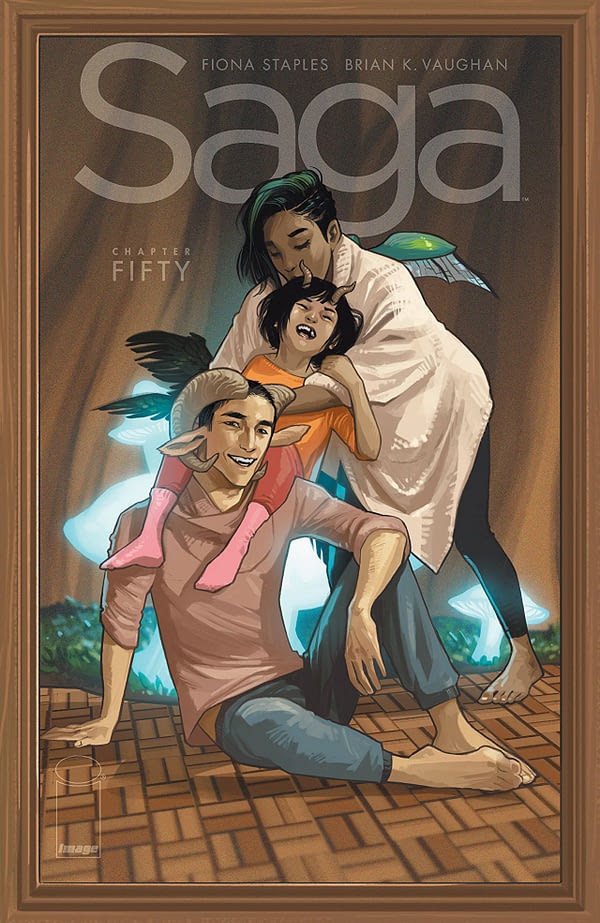 Top 25 Overall
1. Saga #50
2. Doomsday Clock #4
3. Dark Knights: Metal #6
4. Spider-Men II Collection (on sale)
5. Detective Comics #977
6. Marvel's Avengers: Infinity War Prelude (was on sale)
7. Injustice 2 #51 (99 cent digital first)
8. The Terrifics #2
9. The Flash #43
10. Captain Marvel: Carol Danvers- The Ms. Marvel Years (on sale)
11. X-Men Blue Vol. 0: Reunion (on sale)
12. Captain America: Prisoner of War (was on sale)
13. Hulk: Visionaires- Peter David Vol. 4 (was on sale)
14. Avengers #686
15. Star Wars Legends The Epic Collection: The Clone Wars Vol. 2 (on sale)
16. Wolverine Epic Collection: Blood Debt (on sale)
17. X-Men Blue Vol. 3: Cross Time Capers (on sale)
18. X-Men Gold Vol. 0: Homecoming (on sale)
19. Hal Jordan and the Green Lanterns Corps #41
20. Wonder Woman #43
21. Incredible Hulk Masterworks Vol. 4 (Was on sale)
22. New Mutants: Demon Bear (on sale)
23. Invincible Iron Man #598
24. X-Men Gold Vol. 4: The Negative Zone War (on sale)
25. Atlas Era Strange Tales Masterworks Vol. 1 (was on sale)
All week I was anticipating the clash of the big event books: Metal vs. Doomsday. I wondered which one would take No. 1. So imagine my surprise when the results came in, and Saga #50 was at the top.
Saga #50 beating Metal and Doomsday is an even bigger surprise when you consider the monthly shipping numbers in January. Doomsday Clock #3 was ranked No. 1 Close behind was Dark Knights: Metal #5.
And where did Saga #50 land in February? It ranked 37th.
The Terrifics has slipped but still remains in the top 10, beating The Flash, Hal Jordan and Wonder Woman. Will it remain a top 10 mainstay like those titles? At the very least, it has been the most successful of the DC New Age of Heroes this far, as we can see from the new title rankings from the last few months:
Damage:
January 17: #15
February 21: #28
March 21: #26
The Silencer:
January 31: #15 (5th Wednesday)
February 28: #27
March 28: #26
Sideways:
February 14: #20
March 14: #23
The Terrifics:
February 28: #2
March 28: #6
-The Marvel sales chaos continues. The pattern has now become clear: new digital volume releases when are listed as $1 on Comixology before going up in price after a set amount of time. (These volumes are listed as full price on the Marvel app). It certainly is a bold strategy selling your new volumes for only a buck. How long will it go on for? Tune in next week to find out.
Top 75 New Titles:
1. Saga #50
2. Doomsday Clock #4
3. Dark Nights: Metal #6
4. Detective Comics #977
5. Injustice 2 #51 (Digital first)
6. The Terrifics #2
7. The Flash #43
8. Avengers #686
9. Hal Jordan and the Green Lantern Corps #41
10. Wonder Woman #43
11. Invincible Iron Man #598
12. Star Wars: Doctor Aphra #18
13. X-Men Blue #24
14. Black Panther #171
15. Teen Titans #18
16. Jessica Jones #18
17. Trinity #20
18. Champions #18
19. Daredevil #600
20. Old Man Logan #37
21. Peter Parker: The Spectacular Spider-Man #302
22. Justice League of America #27
23. Batman Beyond #18
24. Mera: Queen of Atlantis #2
25. Batgirl #21
26. The Silencer #3
27. Suicide Squad #38
28. Black Magik #11
29. Old Man Hawkeye #3
30. Hit-Girl #2
31. Moon Knight #193
32. The Despicable Deadpool #297
33. Ben Reilly: Scarlet Spider #16
34. The Hellblazer #20
35. Teenage Mutant Ninja Turtles #80
36. Spider-Man/Deadpool #30
37. Damnation: Johnny Blaze- Ghost Rider #1
38. Lumberjanes #48
39. Mystik U #3
40. Bloodborne #2
41. Abbott #3
42. The Demon: Hell is Earth #5
43. Raven: Daughter of Darkness #3
44. X-O Manowar #13
45. Shadowman #1
46. Legion #3
47. Bombshells: United #31 (Digital first)
48. Manifest Destiny #34
49. Mother Panic: Gotham A.D. #1
50. Cyber Force #1
51. Moon Girl and Devil Dinosaur #29
52. Animosity #13
53. Spawn #284
54. G.I. Joe: A Real American Hero #250
55. My Little Pony: Legends of Magic #12
56. Jimmy's Bastards #7
57. Battlestar Galactica vs. Battlestar Galactica #3
58. Redneck #11
59. Suicide Squad #2 (Digital first)
60. Lockjaw #2
61. Hack/Slash: Resurrection #6
62. Jim Henson's Labyrinth: Coronation #2
63. Days of Hate #3
64. Buffy Season 11: Giles #2
65. Imaginary Fiends #5
66. Scooby-Doo! Team Up #72 (Digital first)
67. Image Plus Vol. 2 #8: April 2018
68. Breathless #1
69. George R.R. Martin's A Clash of Kings #9
70. The Crow: Memento Mori #1
71. The Highest House #2
72. Rough Riders: Ride or Die #2
73. Goblin Slayer #22 (Same day as Japan)
74. Hungry Ghosts #3
75. G.I. Joe: A Real American Hero vs. The Six Million Dollar Man #2
Best Selling Collections on sale:
(Reminder: Prices are changing constantly. Be quick if you want that discount)
1. Spider-Men II (Was $9, Now $6)
2. Captain Marvel: Carol Danvers- The Ms. Marvel Years (Was $20, Now $1)
3. X-Men Blue Vol. 0: Reunion (Was $20, Now $13)
4. Star Wars Legends The Epic Collection: The Clone Wars Vol. 2 (Was $20, Now $13)
5. Wolverine Epic Collection: Blood Debt (Was $20, Now $1)
6. X-Men Blue Vol. 3: Cross Time Capers (Was $9, Now $6)
7. X-Men Gold Vol. 0: Homecoming (Was $20, Now $1)
8. New Mutants: Demon Bear (Was $11, Now $1)
9. X-Men Gold Vol. 4: The Negative Zone War (Was $9, Now $1)
10. Generation X Vol. 2: Survival of the Fittest (Was $11, Now $7)
11. Iron Fist Vol. 2: Sabretooth- Round Two (Was $13, Now $8)
12. Marvel Two-In-One Masterworks Vol. 3 (Was $17, Now $11)
13. Thor vs. Hulk: Champions of the Universe (Was $11, Now $1)
14. Ka-Zar Masterworks Vol. 2 (Was $17, Now $11)
15. The New 52: Futures End Vol. 1 (Was $30, Now $5)
16. The New 52: Futures End Vol. 2 (Was $20, Now $6)
17. The New 52: Futures End Vol. 3 (Was $20, Now $6)
18. Descender Vol. 4: Orbital Mechanics (Was $12, Now $11)
19. Descender Vol. 1: Tin Stars (Was $8, Now $6)
20. Fantastic Four by Jonathan Hickman Vol. 2 (Was $7, Now $5)
21. FF by Jonathan Hickman Vol. 1 (Was $11, Now $7)
22. Shazam!: The Monster Society of Evil (Was $13, Now $10)
23. Fantastic Four by Jonathan Hickman Vol. 3 (Was $7, Now $5)
24. Fantastic Four by Jonathan Hickman Vol. 4 (Was $11, Now $7)
25. FF by Jonathan Hickman Vol. 2 (Was $11, Now $7)
26. Wolverine: Weapon X (Was $11, Now $4)
27. FF by Jonathan Hickman Vol. 4 (Was $13, Now $8)
28. Fantastic Four by Jonathan Hickman Vol. 1 (Was $9, Now $6)
29. FF by Jonathan Hickman Vol. 3 (Was $9, Now $6)
30. Fantastic Four by Jonathan Hickman Vol. 6 (Was $15, Now $10)
31. Fantastic Four by Jonathan Hickman Vol. 5 (Was $15, Now $10)
32. I Kill Giants (Was $16, Now $10)
33. Wolverine: Origin (Was $11, Now $4)
34. Descender Vol. 3: Singularities (Was $12, Now $7)
35. Descender Vol. 2: Machine Moon (Was $12, Now $9)
36. Fantastic Four by Mark Waid and Mike Wieringo: Ultimate Collection- Book Two (Was $13, Now $8)
37. The Woods Vol. 1 (Was $5, Now $2)
38. Fantastic Four by Mark Waid and Mike Wieringo: Ultimate Collection- Book Two (Was $20, Now $13)
39. Fantastic Four by Mark Waid and Mike Wieringo: Ultimate Collection- Book Two (Was $15, Now $10)
40. Wolverine: Origin II (Was $9, Now $4)
41. Wolverine: Logan (Was $5, Now $3)
42. The Woods Vol. 8 (Was $8, Now $4)
43. Infinity Gauntlet (Was $11, Now $7)
44. Forever Evil (2013-2014) (Was $17, Now $13)
45. Fantastic Four by Mark Waid and Mike Wieringo: Ultimate Collection- Book Four (Was $17, Now $11)
46. Pathfinder Vol. 1: Dark Waters Rising (Was $15, Now $5)
47. Spider-Man 2099 Vol. 6: Apocalypse Soon (Was $9, Now $6)
48. The Woods Vol. 7 (Was $8, Now $4)
49. Wolverine: The End (Was $11, Now $4)
50. Fantastic Four: Masters of Doom (Was $15, Now $10)
(Last Updated
March 30, 2018 2:26 pm
)
Related Posts
None found