When it was revealed back in July that Captain Marvel is going to feature the Skrulls, fans have been wondering what exactly that's going to mean. The Skrulls are a bunch of shapeshifting aliens that happen to fall into the grey area of the Fox and Marvel rights where both companies can use them. There have been rumors for a while now that Ben Mendelsohn will be playing the Skrull leader.
Then we got the tease that Captain Marvel was going to involve two alien races fighting each other in the '90s, with Carol Danvers getting involved.
The story follows Carol Danvers as she becomes one of the universe's most powerful heroes when Earth is caught in the middle of a galactic war between two alien races. Set in the 1990s, "Captain Marvel" is an all-new adventure from a previously unseen period in the history of the Marvel Cinematic Universe.
That same PR email had something a little surprising on there — and that was a full cast list. There were plenty of names we already knew about, but there were also a few that raised some eyebrows. We have bolded the interesting ones.
The film stars Academy Award® winner Brie Larson ("Room," "Kong: Skull Island"), Samuel L. Jackson (Marvel Studios' "Avengers: Age of Ultron," "The Hateful Eight"), Ben Mendelsohn ("Rogue One: A Star Wars Story," "Ready Player One"), Djimon Hounsou ("Blood Diamond," Marvel Studios' "Guardians of the Galaxy"), Lee Pace ("The Book of Henry," Marvel Studios' "Guardians of the Galaxy"), Lashana Lynch ("Brotherhood," "Fast Girls"), Gemma Chan ("Humans," "Fantastic Beasts and Where to Find Them"), Algenis Perez Soto ("Sambá," "Sugar"), Rune Temte ("Eddie The Eagle," "The Last Kingdom"), McKenna Grace ("I, Tonya," "Gifted"), with Clark Gregg ("Live by Night," "Marvel's The Avengers"), and Jude Law ("Spy," "The Grand Budapest Hotel").
First of all, it's lovely to finally see Clark Gregg make his return to the movie side of the Marvel Cinematic Universe after being absent since 2012. The interesting part is seeing Lee Pace and Djimon Hounsou up there. Pace played Ronan, the Kree fanatic in Guardians of the Galaxy, and Hounsou played his subordinate Korath. So what does this mean? Well, it sounds like we might know what those two alien races are.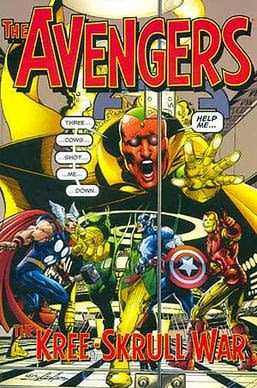 If we go by the casting information and the few story details we have garnered so far, it's pretty safe to say that Captain Marvel will be taking some elements from the Kree-Skrull war storyline. The Kree-Skrull war was a story arc that ran through the Avengers comic books from June 1971 to March 1972 and Avengers #89 – #97. Writer Roy Thomas said that he had no "master plan" when coming up with this story arc other than two "rapacious, galaxy-spanning races … would be at war in the far reaches of space, and that their conflict would be threatening to spill over onto the Earth, turning our planet into the cosmic equivalent of some Pacific island during World War II," as said in the Afterword of Marvel's Finest: Avengers: The Kree-Skrull War published in 2000.
The original story arc involves a bunch of characters, including some that wouldn't make any sense to appear — such as Vision and Scarlet Witch (this arc also kicked off their romance). It also features some heroes whose movie counterparts are too young to be involved in this story, like Captain America and Iron Man. The Fantastic Four also play a part, but we know they won't be in the film since the ink isn't dry on the Fox-Disney deal yet.
The story arc features Ronan just after he becomes an outlaw of the Kree empire. This story does feature both Mar-Vell, played by Jude Law, and Carol Danvers, but this is before Danvers manifested her powers and became Ms. Marvel.
We know that Ronan doesn't agree with the idea of signing peace accords from his time on Guardians of the Galaxy, so perhaps this is where we see him first lashing out at the rest of the galaxy. This story also features Carol being revealed as the Super Skrull, but making Carol the bad guy in her own movie is not a good idea on a bunch of different levels. Instead, perhaps, that could be given to someone else who has powers. Maybe Mar-Vell? We'll have to see.
Right now we only have so much information, and more will likely come out once Avengers: Infinity War comes out. As it is right now we have a better idea of what's going to happen in Captain Marvel than we did before, and we know that Clark Gregg is finally coming back in some capacity.
Captain Marvel, directed by Anna Boden and Ryan Fleck, will also star Brie Larson, Jude Law, Gemma Chan, Samuel L. Jackson. The film is set for release on March 8th, 2019.
Enjoyed this article? Share it!