Recently announced as part of DC Comics' new Black Label imprint was a Batman comic, by Scott Snyder and Greg Capullo, Batman: Last Knight on Earth.
Batman wakes up in a desert. He doesn't know what year it is or how The Joker's head is alive in a jar beside him, but it's the beginning of a quest unlike anything the Dark Knight has undertaken before. In this strange future, villains are triumphant and society has liberated itself from the burden of ethical codes. Fighting to survive while in search of answers, Bruce Wayne uncovers the truth about his role in this new world—and begins the last Batman story ever told.
It felt a little familiar. Especially to anyone who reads Head Lopper by Andrew MacLean from Image Comics that began a couple of years ago.
The Head Lopper, Norgal, and the nagging severed head of Agatha Blue Witch arrive on the Isle of Barra to find it overrun with beasts: minions of the Sorcerer of the Black Bog. When Queen Abigail hires Norgal and Agatha to slay the Sorcerer, our heroes trek across the island reliving the horrors of their heads-and playing right into the hands of a master manipulator.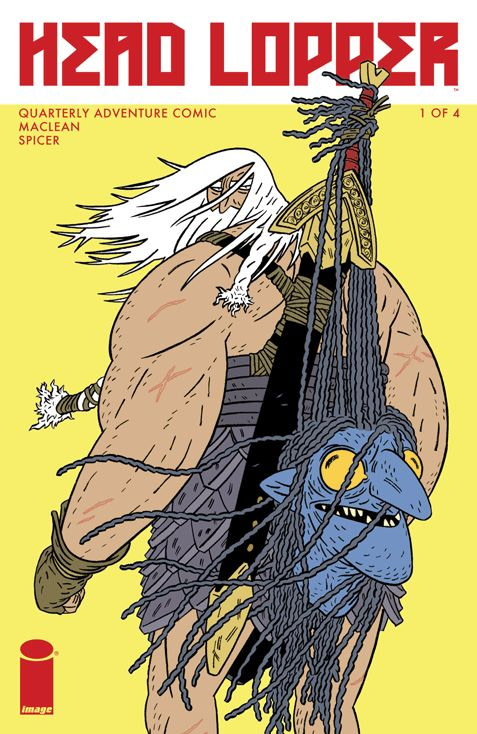 Head Lopper continues to be published by Image Comics. Volume 2 is out next week.
Separated at Birth used to be called Swipe File, in which we presented two or more images that resemble each other to some degree. They may be homages, parodies, ironic appropriations, coincidences, or works of the lightbox. We trusted you, the reader, to make that judgment yourself. If you were are unable to do so, we asked that you please return your eyes to their maker before any further damage is done.
The Swipe File didn't judge; it was interested more in the process of creation, how work influences other work, how new work comes from old, and sometimes how the same ideas emerge simultaneously, as if their time has just come. The Swipe File was named after the advertising industry habit where writers and artist collect images and lines they admire to inspire them in their work. It was swiped from the Comic Journal, who originally ran this column, as well as the now-defunct Swipe of the Week website.