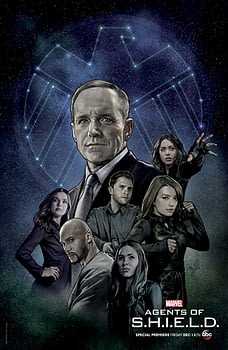 Back in January, at the Television Critics Associations winter press tour, ABC's President Channing Dungey said that she was cautiously optimistic about Marvel's Agents of SHIELD being renewed. Ever since then we've been hearing the cast and crew talking about how they are treating the season finale as a potential series finale because they don't know what's going on. It feels like the decision may come down to what new shows the network has that they are confident in and if one of them bumps SHIELD off the schedule.
With them working as if it is the end, the question becomes will we get answers. Will we know, when all is said and done, just who caused the end of the world that we saw in the earlier part of the season. EW.com asked executive producer Jeff Bell if we'll be getting that answer:
Hopefully! It's a tricky thing because we don't know what did it. We were told, 'Oh, you did this,' about Daisy. Daisy was told she did it but did she? This is a rumor, so figuring out what future Yo-Yo told younger Yo-Yo, how much of that is true and how much of that is something we can bank on is a question we have to look into.
He's acting like he doesn't know. I can't imagine they will end the season without telling us. They may leave some other cliffhangers in case they do get renewed, but that one will probably be cleared up.
Marvel's Agents of SHIELD airs Fridays at 9 p.m. on ABC.
(Last Updated
March 22, 2018 1:23 pm
)
Related Posts
None found