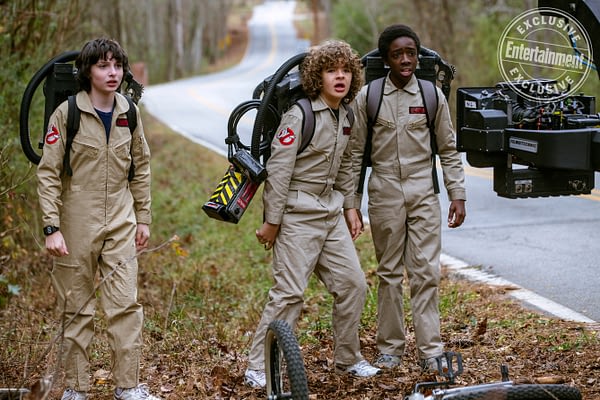 In their defense, have you seen how much a studio apartment in the Upside Down is going for these days? You're not getting a shoebox with a toilet attached for anything less than two grand a month — and you're parallel parking next to an oozing pit just like everyone else. What do you expect? It's no surprise: the neighborhood used to be nothing but Demogorgons; but after two hugely successful seasons of Netflix's Stranger Things, the area saw a huge influx of hipster social media/dot.com types that blew up the cost of everything.
Okay, maybe there are some slightly more realistic reasons for it; but whatever the case, the streaming service looks to be putting some big green behind their praise of The Duffer Brothers' 1980s-set sci-fi drama series. Deadline Hollywood reported exclusively that series stars Finn Wolfhard, Millie Bobby Brown, Gaten Matarazzo, Noah Schnapp, Caleb McLaughlin, Winona Ryder, David Harbour, Natalia Dyer, and Charlie Heaton have either finalized or are close to finalizing agreements for major salary boosts heading into production on the series' third season.
Here is how the pay increases are expected to break down, though Netflix has not officially confirmed:
●  Wolfhard, Matarazzo, Schnapp, and McLaughlin are expected to see their salaries increase to between $200,000 and $250,000; with breakout star Brown expected to see a larger raise (a substantial increase from the $30,000 per episode they were reportedly paid for the first two seasons).
●  Series regulars Dyer and Heaton look to see their salaries increase to the $100,000-$150,000 per episode range.
●  Netflix didn't forget about the "big kids" though: Ryder and Harbour will see their salaries grow to somewhere in the $350,000 per episode range.
Netflix is expected to begin production on Stranger Things season 3 (Stranger Things 3?) in April, with the eight-episode season moving the show's timeline ahead a year and introducing new "big bads" for our heroes to confront. Priah Ferguson's Erica Sinclair — Lucas's (McLaughlin) little sister — has been promoted to series regular, and Maya Hawke (Little Women) has joined as a new still-unknown series regular.