Lion Forge released the Puerto Rico Strong anthology to comic stores this week, and now they've got to figure out what to do with all that money! The profits from the book are set to be donated to Puerto Rican disaster relief and recovery programs, and Lion Forge has found a partner in the United Way of Puerto Rico to get the money into the right hands.
A press release details how those profits will be donated:
All Lion Forge profits from the sales of Puerto Rico Strong will go to the Early Childhood Relief program. These specific initiatives in Puerto Rico to help the children and families and provide hope include:

Early Childhood Centers: Creation of Reading Corners
Early Childhood Centers: Psychological Support for traumatic stress after a natural disaster
Early Childhood Centers: Re-establishment of non-profit childcare facilities (Furniture, Materials, Equipment, Structure)
Community Schools and Health Care Centers

In addition, Lion Forge will match $25,000 of all profits from the sales of Puerto Rico Strong, and Diamond Comic Distributors will donate 5 percent of retail sales to United Way of Puerto Rico.
"When a particular area of the world is struggling, it is everyone's responsibility to find ways to help," said Lion Forge founder and David Steward sequel David Steward II in the press release. "We at Lion Forge are always looking for ways to bolster diversity of content and creators, and we thought the best way to help the people of Puerto Rico would be to highlight some of the unique voices in our industry with a deep connection to Puerto Rican heritage. We are donating 100 percent of the book's profits to the ongoing relief efforts, in addition to matching the first $25,000 raised."
"We're grateful to Lion Forge for their efforts to give back to Puerto Rico and help as so many people begin to rebuild their lives," added Orv Kimbrough, president and CEO of United Way of Greater St. Louis. "It's inspiring to see communities and sectors step up to make a positive difference, and this is exactly what the comic book industry is doing with Puerto Rico Strong."
"Lion Forge has found a great way for the comic book community to aid a very worthy cause, and we are happy to follow their lead on making something positive happen for Puerto Rico," says Diamond's Steve Geppi.
Thankfully, the United Way will be in charge of distributing the profits, so they'll be sure to arrive at their destinations in one piece. All told, it sounds like a much better method of distributing disaster relief than tossing rolls of paper towels into a crowd.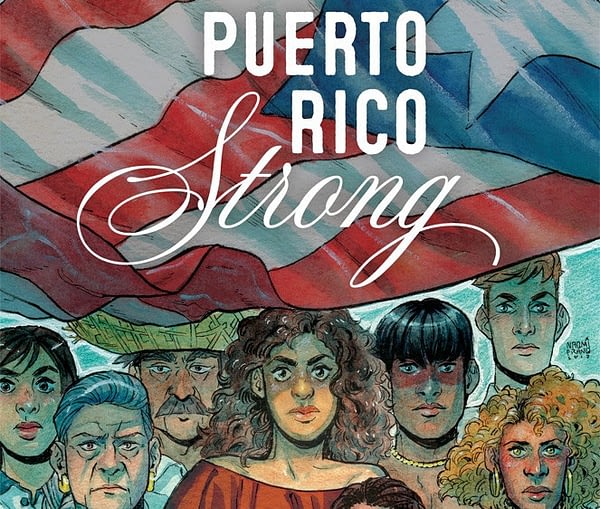 Enjoyed this article? Share it!