Garfield, everybody's favorite cartoon cat — okay, in your top ten, at least — is getting a new 4-issue mini-series called Garfield: Homecoming from BOOM! Studios this June. Scott Nickel is writing the comic, which will feature a different artist on each issue. The first of those is Sara Talmadge, who offers a take on Garfield that's a pretty big departure from Jim Davis's signature style.
No, seriously. Look: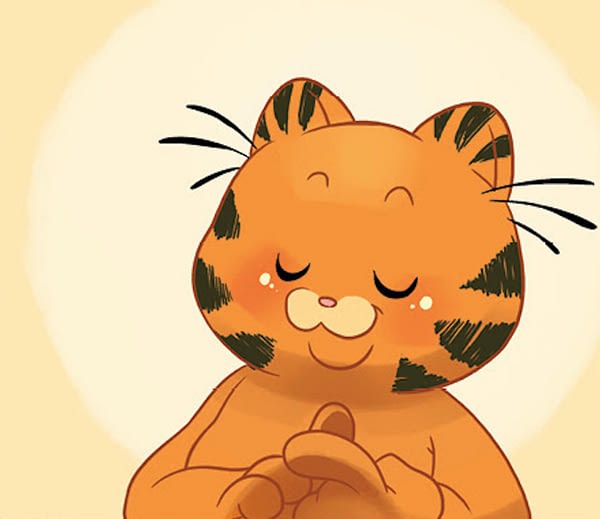 Here's the description from the press release:
Feeling mistreated and unappreciated by Jon, Garfield embarks on a journey for a new home and, along the way, meets up with a clown who works in an old-timey travelling circus. Convinced that this is the place for him, Garfield becomes part of the act. Wait. What is that cannon for?
As is unbreakable tradition in all comic book press releases, possibly under threat of death or at least serious maiming, everyone involved here contributed quotes to pad the press release.
"Putting Garfield on the road in GARFIELD: HOMECOMING allows him to meet a variety of new characters – both friend and foe – and his journey takes him to some interesting and unexpected places," said Nickel, fulfilling his ancient obligation. "We hope fans enjoy the ride."
"I've always loved Garfield and getting to take him on an all new adventure with Scott and the team at BOOM! Studios was such a thrill!" said Talmadge. "Garfield's taking on the circus with his usual sass and legendary appetite… But can he be the new star act that the circus needs? Every page in this issue was a total blast to draw (I mean, what's more fun than the circus?), and I hope you enjoy it too!"
"We've told some incredible Garfield stories at BOOM! Studios, but we've never taken Garfield this far outside his comfort zone – both literally and metaphorically," said BOOM! editor Whitney Leopard (not an actual leopard) (probably). "In-between all the crazy adventures and trademark Garfield humor, the heart of this story is one that readers of all ages can relate to – the search to find that place where you fit in and feel like you can truly call your home."
Andy Hirsch and Talmadge provide the cover to issue #1. Check out more art below: