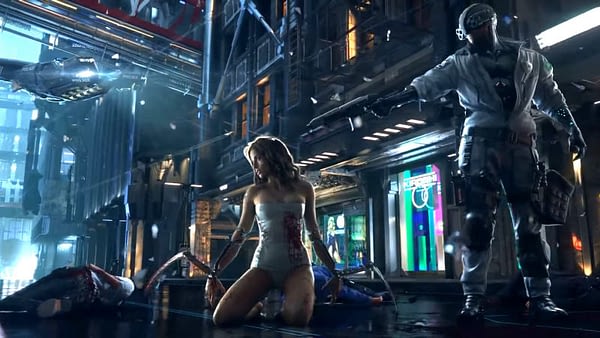 In a recent talk at the Pareto Securities Gaming Seminar developer CD Projekt Red tauted their new project, Cyberpunk 2077, as a "more ambitious project" than The Witcher III. This story was first reported by Segment Next and later picked up by PC Gamer.
While this is objectively good news for the studio, it might have you scratching your head a bit. The Witcher III was a massively open world RPG set in a low-fantasy world complete with some incredibly compelling storytelling and satisfying gameplay. And it was done on a shoestring budget. For Cyberpunk 2077 to be more ambitious than that, well, its going to have to be one hell of a ride. However, despite the success of The Witcher III, CD Projekt Red doesn't have the massive resources as a AAA publisher. Which resulted in some odd bugs in The Witcher III, where the game would practically melt any time the player was not in view of the world. Which saved a hell of a lot of processing power.
However, to create a more ambitious game, it seems like a major risk.
According to PC Gamer:
The presentation is very dry and as far as Cyberpunk goes there's really nothing new said, but the studio certainly doesn't appear to be interested in dialing back expectations at this point.

"Cyberpunk is our new Witcher 3, but even more ambitious. Our goal is to establish a new blockbuster franchise from the beginning. We work [in a] new universe, futuristic universe. We believe it's very appealing to players, not only RPG players—but this is [a] true RPG, like Witcher, like Witcher 3, for mature audiences. It's handcrafted, detailed, of course open-world, with open-ended gameplay ," CD Projekt CEO Adam Kicinski says in the video.

"Great game, more ambitious than Witcher 3, and we believe that we can aim [at] more ambitious business goals as well—of course, still having gamer-centric focus and quality focus as a main priority."
The rest of the presentation goes on to crash any rumors of The Witcher 4. CD Projekt Red seem very, very set on leaving the Witcher series as a trilogy.
If you'd like, you can watch all of CD Projekt Red's Pareto Securities presentation below.
(Last Updated
February 27, 2018 3:08 am
)
Related Posts