No review box found! Insert a valid box ID.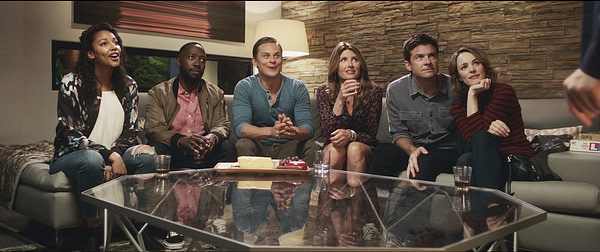 Game Night finally breaks Jason Bateman's losing streak of horrible low-brow comedies. After such dumpster fires as Office Christmas Party, The Longest Week, Mansome, and Identity Thief, we finally get a fun comedy that doesn't spend it's entire length trying to come up with ever more tasteless jokes.  The jokes read like the sort of banter that would actually be passed between contemporary adults when they've gathered together for an evening of gaming.
Bateman played Max, who along with his wife Annie (played by Rachel McAdams) have grown up being hyper-competitive games (mostly of the board game variety). The growing-up montage at the start of the film even shows them having become engaged by way of a round of charades. Now they're in their early mid-lives and are still hosting weekly game night with their friends.
Next door is a genuinely creepy police officer neighbor Max, played to the hilt by Jesse Plemons. Plemons is hyper-socially awkward and keeps asking when the next game night will be. Max and Annie have told the other gamers to park away from the house and to sneak in to keep Plemons from joining in and crashing the party.
Max's semi-estranged and highly financially successful brother, Brooks (played by Kyle Chandler), has come back into town and invited them over to his rental for what he promises will be a night of gaming they won't forget. It turns out that Brooks has hired a firm to run a Host a Murder-style live-action scenario of a kidnapping and everyone is ready to jump into it.
That the faux scenario suddenly gets invaded by real thugs pulling off a genuine kidnapping of Brooks and the rest of the story rather writes itself, but this time not in a bad way. There's a few twists along the way, enough to keep the whole thing from being boring, and the humor feels rather genuine. Billy Magnussen plays Ryan, one of the game night regulars who is always bringing along a new date each week (though they all look and sound alike).
Everyone is rather quirky, and Max comes off as more likable and worthy of some character redemption than he does in many of his recent comedies. If you're looking for something light-hearted and want some laughs, you could do far worse than pick Game Night.
No review box found! Insert a valid box ID.
No review box found! Insert a valid box ID.