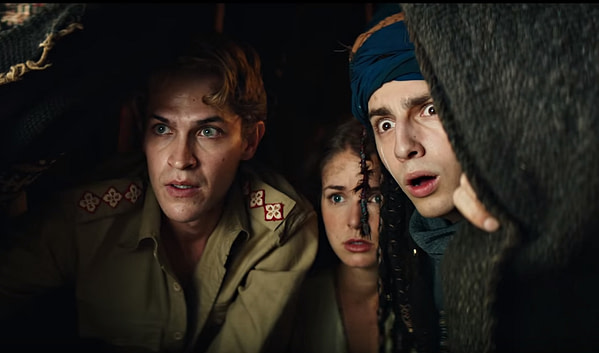 For Stargate Origins, the future of the franchise continues to lie in the past as the webs series offers us a preview of what's still to come this season; as well an overview of Episodes 4 and 5, which premiered tonight at 7 p.m. ET/4p.m. PT on the on the Stargate Command streaming service.
Comprised of 10 episodes that run around 10 minutes in length, Stargate Command will premiere approximately two episodes per week over the next several weeks. You can preview what's still to come for Catherine (Ellie Gall) and her team as they continue their recuse mission through the Stargate:
Episode 4: The team's travels bring them into dangerous territory, and Catherine discovers that getting home won't be as easy as she thought. Matters are complicated when two new faces present themselves, but could one be a potential ally?

Episode 5: As Aset learns of new interlopers on her territory, Brücke schemes to win her favor. Catherine and the team are follow the lead of their mysterious guide, but his intentions remain unclear as they navigate their new surroundings.
Here's a look at the original trailer, as well as an overview of the series:
In 1939, Professor Paul Langford and his daughter Catherine are still grappling with the mysteries of the ancient relic they discovered in the Egyptian desert more than ten years ago. With war looming in Europe and funding running out, these brilliant minds are approaching their lowest ebb. Little do they know, answers are about to present themselves in a dangerous form, when the Nazi Occultist Dr. Wilhelm Brücke approaches their facility with a sinister motive.

Enlisting the help of two young soldiers, Catherine must use all of her wit and nous as she and her new allies embark on an adventure into the unknown to rescue her father, and save the Earth from an unimaginable darkness.
Stargate Origins stars Ellie Gall as the young Catherine Langford; Connor Trinneer as Professor Paul Langford, father of Catherine and the man who found the Stargate at a dig at Giza; Aylam Orian as Dr. Wilhelm Brücke, the high-ranking Nazi officer, occultist and series main antagonist; Philip Alexander as Captain James Beal, British officer stationed in Egypt; and Shvan Aladdin as Wasif, a native Egyptian and a lieutenant in the British army.