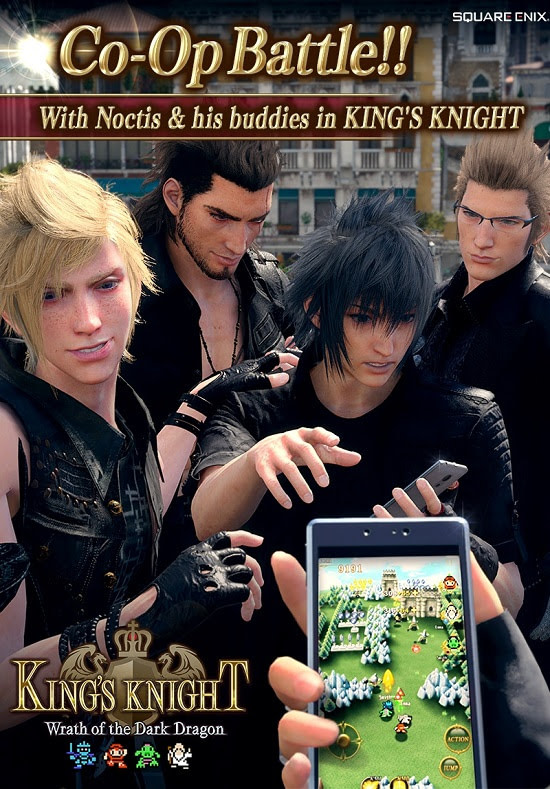 Final Fantasy XV fans can now join Noctis and the chocobros in the tie-in spinoff game King's Knight: Wrath of the Dark Dragon thanks to a new crossover event. Starting today and running through March 2nd, players can enlist Noctis, Prompto, Gladiolus and Ignis during cooperative-play battles. So, score one for fantasy wish fulfillment.
Now, we can go fishing with Noct in Monster of the Deep and even play a mobile game with the boys, just like we all wanted. Square Enix has gone so far to provide Final Fantasy XV fans with the ultimate wish fulfillment peripherals, the move actually scored King's Knight our E3 Game of Show award for being such a well-played marketing move.
That said, the game itself is a pretty addicting mobile game with a slightly bullet-hell style of gameplay which makes it a little bit insane. And it's about to get even weirder. During the event, players are randomly matched with one of the boys in new episodes featuring an "engaging multiplayer experience" which is "complete with the characters' familiar voices". Players can receive direct messages on the message board and witness familiar banter from Noctis and friends as the episodes progress, providing a deeper glimpse into the camaraderie of the four.
So you get to actually pretend you're friends with pre-programmed versions of Noct, Iggy, Gladio, and Prom.
Players will collect "War Fellowship Tokens" after completing a multiplayer quest, and exchange them for the following items that can be used in Final fantasy XV for a variety of rewards, including:
New Outfit for Noctis – KING'S KNIGHT-themed T-shirt for Noctis boosts tolerance against the elements
Regalia Stickers – Customize the look of the Regalia car with the custom KING'S KNIGHT-themed sticker set
Regalia Song – Songs from the memorable KING'S KNIGHT soundtrack will be playable inside the Regalia car
King's Knight –Wrath of the Dark Dragon is available as a free download on the App Store for iPhone and iPad and on Google Play for Android Devices.