Great news for members of the WWE Universe who were concerned that after Roman Reigns is coronated as WWE Universal Champion at WrestleMania he'll only be able to main event half of the minor PPVs for WWE for the next year of his reign. WWE has confirmed rumors that all PPVs beginning with Backlash after WrestleMania will be dual-branded, meaning they will feature WWE Superstars from both the Raw and Smackdown Live brands.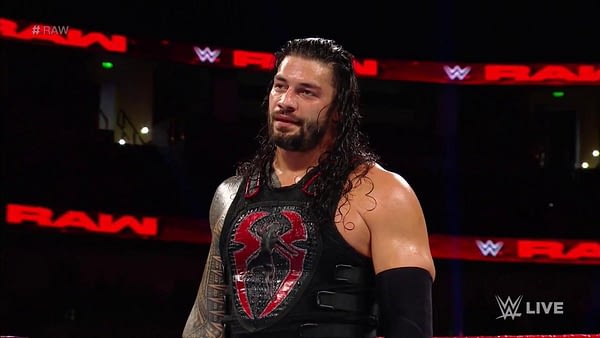 The move, speculated on last week, could be due to low ticket sales, as WWE is constantly trying to decide between whether it's the "WWE brand" that's the draw or the individual superstars that are the attractions. WWE has worked hard to prevent any of its WWE Superstars beyond the anointed chosen one — at one time John Cena, now Roman Reigns — from becoming too big of a star for WWE to control, basing that on the logic that people come to arenas to see WWE, not to see AJ Styles or The New Day or Shinsuke Nakamura or Nia Jax or Asuka. But if people are buying less tickets, then, following that logic, WWE would need to answer some pretty hard questions, like "Does WWE simply oversaturate the market with its hours of wrestling each week?" or "Maybe we should listen to the crowd reactions to determine which wrestlers to push?" or "Maybe we should stop scripting every promo and interaction so heavily so that the wrestlers have more creative freedom to develop their characters?" and nobody wants to deal with that.
Going with dual-branded PPVs does create some interesting opportunities. First of all, it will allow Superstars from both brands to interact roughly once per month, which will differentiate the PPVs from the weekly television shows with the chance for fresh interactions. It will also, unfortunately, mean less time to split amongst the rosters on each PPV, but WWE could use this to their advantage by putting more bigger and more important matches on their weekly television shows, which could make the shows more interesting and faster-paced, which could increase ratings.
Ultimately, if WWE wants to sell more tickets in the long term, they need to make their shows more interesting, and that comes down to the creative team's ability to fill 7-10 hours of television per week with interesting storylines. Whether declining ticket sales and annually declining ratings have reached a point that's motivating enough to make the writing more innovative, we'll have to wait until after WrestleMania to find out.
Here's WWE's announcement and the PPV schedule for WrestleMania and beyond:
After WrestleMania, you'll get the best of both brands – Raw and SmackDown LIVE – every month, on every pay-per-view. Catch every event streaming live on the award-winning WWE Network.
WrestleMania 34 – April 8, 2018

WWE Backlash – May 6, 2018

WWE Money in the Bank – June 17, 2018

WWE Extreme Rules – July 15, 2018

SummerSlam – Aug. 19, 2018

WWE Hell in a Cell – Sept. 16, 2018

WWE TLC: Tables, Ladders & Chairs – Oct. 21, 2018

Survivor Series – Nov. 18, 2018

WWE Clash of Champions – Dec. 16, 2018
Enjoyed this article? Share it!