ComiXology Unlimited is an all-you-can-eat streaming digital comics download service, competing with (and, frankly, named after) the likes of Marvel Unlimited.
Only available in the USA, it contains a selection of titles from Marvel, Image Comics, Dark Horse, IDW Publishing, BOOM! Studios, Dynamite Entertainment, Kodansha Comics, Oni Press, Valiant Entertainment, Archie Comics, Fantagraphics Books, Humanoids, Action Lab Entertainment, Aspen Comics, Magnetic Press, Zenescope Entertainment and more. It does not include DC titles. And it costs $5.99 a month.
So while that includes a backlist of The Walking Dead, Attack on Titan, Hellboy, Adventure Time, Peanuts, Buffy the Vampire Slayer, Lumberjanes, Saga, The Umbrella Academy, Outcast, Transformers, for some using the ComiXology Unlimited app doesn't match what they want to read.
Until now.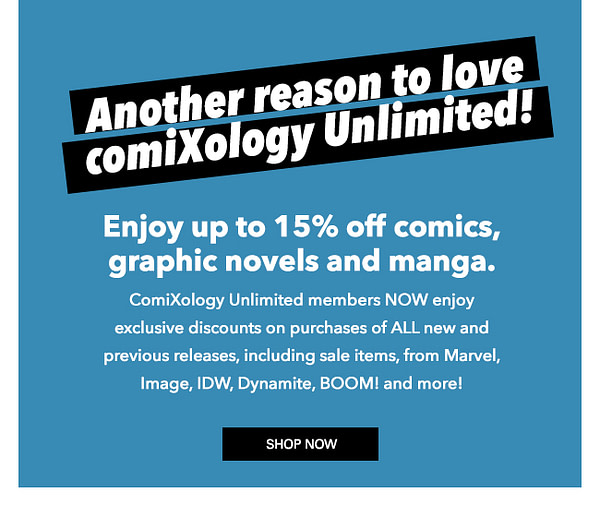 Because those who pay the $5.99 a month, as well as that backlist, also get 15% off new titles to download. Including sale prices. So, if you are the kind of person who spends $40 a month on new Marvel and Image Comics on ComiXology in a month, say, you will be saving money – and have access to all the ComiXology Unlimited backlist of comics.
I'm going to say that this could be a pretty good deal for a lot of people.
As for DC Comics, my guess is they are probably saving it for their own multi-media streaming service later this year…