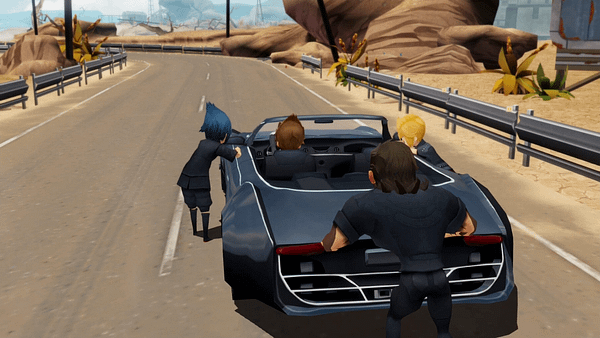 Square Enix has announced a February 9th release date for Final Fantasy XV Pocket Edition. At least, in Japan, anyhow. Siliconera picked up a report from Square Enix Japan, which indicates that you can pre-register your interest in the game on both the App Store and Google Play.
Final Fantasy XV Pocket Edition has a chibi art style and a simplified battle system, but the rest of it plays exactly the same as the console and PC version of Final Fantasy XV. All of the same moments are programmed in, with an attention to detail that is honestly staggering. It's also cute as hell.
To make up for the loss in processing power and storage capacity, Final Fantasy XV Pocket Edition will be split over 10 episodes and might be ported to the Switch in the place of a full FFXV port. The full game didn't run very well on the Switch because the console couldn't "bring out the most of the engine", which means SE are looking for alternatives. The Pocket Edition might be just that.
And while the console and PC version of the game may be a sprawling RPG, the Pocket Edition is described as being "Easy for anyone to pick up and play!"
When we got to test the Pocket Edition out at PAX West last year, we found it to be an absolutely adorable and faithful port of the game despite the changes to the art, UI, controls, and battle system. The opening, all of the cutscenes, even many of the small dialogue exchanges were perfectly rendered in miniature, from the Regalia's breakdown to Noct's emo attitude.