Even though outgoing The Walking Dead showrunner Scott M. Gimple was promoted to bigger and better things professionally (like overseeing the entire Walking Dead kingdom, which includes shows, video games, etc.), that doesn't mean he still doesn't have a long-term plan on where the show's going. Beginning with the show's mid-season premiere on AMC on February 25th, Gimple will begin his final stretch as showrunner before handing off the title to Angela Kang with the series' ninth season.
Gimple took some time to speak with Entertainment Weekly on the impact Carl's (Chandler Riggs) death will have on the final days of "All Out War" — a decision that Gimple has received both praise and criticism for:
While Gimple wouldn't give too much away about the mid-season premiere, he does say that what happens will set a specific tone for the season moving forward:
"Well, I can't say exactly what happens, but there is a story there and there are remarkable performances by everybody involved, led by Chandler Riggs. And a certain compulsion is given to the story, certain ideas and wishes and even reveals with incredible importance to this season in the overall story." Remember those "Old Man Rick" flash-forwards from earlier in the season? They're going to offer some interesting reveals during the second-half of Season 8:
"That's a really good question. Though it's not the end of the overall story, in many ways its relationship to episode 1 is pretty important in terms of how it does end certain things and reveal certain things. There is a deep relationship between the two episodes."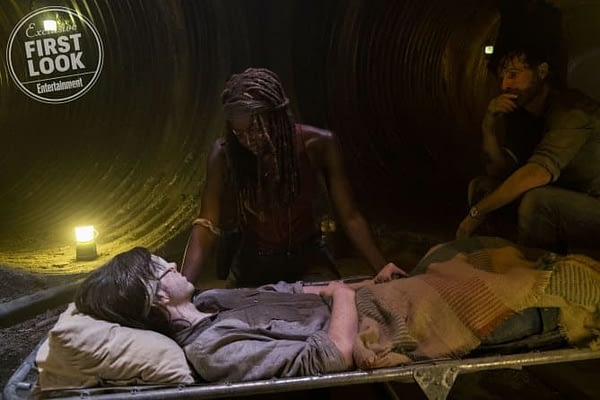 Carl's "words of wisdom" to his father Rick (Andrew Lincoln) about not getting caught-up in the war and thinking more to the future and creating a new society will be a conflict that will continue to play out through "All Out War" and beyond:
"Them deciding who they are going to be is certainly part of it and how they might be able to win this thing and also rethink the entire effort to beat Negan rather than find another way. And that's all pretty heavy emotional, philosophical stuff, but there are also a lot of practical realities going on about how Alexandria has been definitely, you know, screwed up.

We saw what happened in many ways. Now it's where are they going to go? What are they going to do? Is it a question of beating Negan or just surviving at this point? Is it a last stand? Is it a surrender? Is it an escape? There are those big philosophical questions but then there are practical questions that just kind of surmount everything. Which is: How do they survive the night?"
The Walking Dead returns to AMC with Season 8's mid-season premiere on Sunday, February 25th at 9 p.m. ET.
Enjoyed this article? Share it!