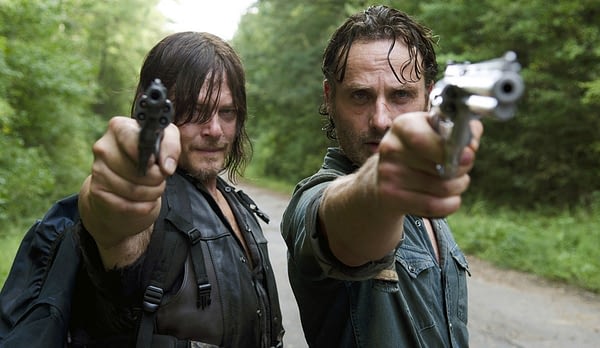 With The Walking Dead's eighth season "All Out War" now very much not going in their favor, Rick (Andrew Lincoln) and his Kingdom/Hilltop/Alexandria coalition have been driven underground and are on the run. Negan (Jeffrey Dean Morgan) and the Saviors' "scorched earth" retaliation left Alexandria destroyed, King Ezekiel (Khary Payton) captured and Maggie (Lauren Cohan) readying the Hilltop for one final battle for everything. But the one moment that silenced the room — a moment that while not surprising, still had an emotional wallop to it — was Carl (Chandler Riggs) revealing his walker bite to a stunned Rick and Michonne (Danai Gurira).
With The Walking Dead set to return to AMC on Sunday, February 25th, with its Season 8 mid-season premiere, Lincoln addressed a number of issues during his interview with Entertainment Weekly. He talked about whether Carl's demise is a sign of more shocking things yet to come this season; why the television series needs to distance itself in some ways from the comic series; and how an "anything can happen" vibe is essential for The Walking Dead to survive.
On Carl's inevitable death and how that changes everything for fans of The Walking Dead:
"As soon as it happened, all bets were off. Because there had been a certain sense, I think, over the last couple of years, that people would go, 'Oh, we are much more associated with the comic book.' I think that the general thrust of the story was always going to be based upon that with a couple of deviations or inversions or twists or replacements in one character taking that story and this one taking that. But this is unchartered waters for the show. I think it made, certainly for me, a much more challenging and more dangerous back eight [episodes]. I think what they're having to do is shake it up, in a profoundly new way."
With the series currently in the middle of its eighth season, Lincoln believes it's time for the series to take big chances and blow open The Walking Dead's universe of storyline possibilities:
"I think, well, why not? We're eight years, into a big story and I think if there is a future game — which I know that there is — they're going to have to take some big swings and change things up. Loosening and untethering us from a lot of the story in the comic is one really interesting way of moving the story forward, and perhaps we can look at a bigger story outside of the one that we've been focusing on for eight years — which could be incredibly satisfying for Rick's journey, and the characters that are around Rick, but also for the audience."
Enjoyed this article? Share it!