Sheriff Jody Mills (Kim Rhodes) and the rest of her 'Wayward Sisters' are set to mark their return to The CW's Supernatural in a big way this Thursday — and it couldn't come at a better time for brothers Dean (Jensen Ackles) and Sam Winchester (Jared Padalecki). This week's Season 13 mid-season premiere doesn't just find our heroes in a bad place: it finds them caught in The Bad Place and in desperate need of rescuing. So Dean and Sam are gonna need to get by with a little help from their friends.
Aside from being Supernatural's mid-season opener, 'Wayward Sisters' also serves as a backdoor pilot for the planned spin-off series The Wayward Sisters, which would focus on Sheriff Mills and a group of troubled young women, all orphaned by supernatural tragedy. Under Sheriff Mills's training and protection, the women emerge as a supreme monster-fighting force. Supernatural co-showrunner Andrew Dabb and Robert Berens wrote the script; with Dabb, Berens, co-showrunner Robert Singer and Phil Sgriccia executive producing.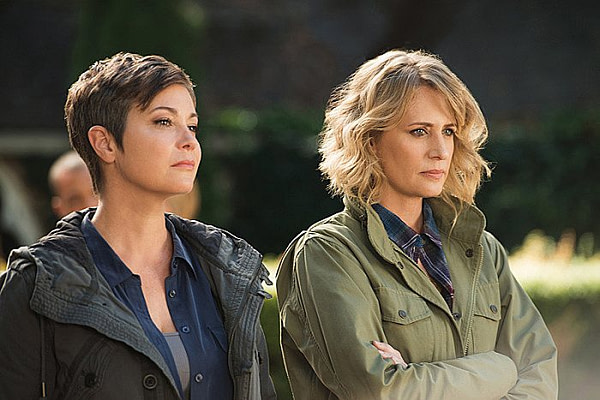 Entertainment Weekly spoke with Rhodes ahead of this Thursday's premiere to get her thoughts on a number of topics, beginning with what she admires most about Sheriff Mills since the character first appearance in Season 5's 'Dead Men Don't Wear Plaid':
"I admire her immensely. [She has] a maternal love for such a vast array of humanity. I'm excited [that I get] to play that belief that humanity has value and deserves to be saved."
As Rhodes views it, the biggest challenge that "The Wayward Sisters" face — both in the this episode and moving ahead to their own series — is getting a group of people with the same goals in mind but with differing ways to reach them to be able to work together as a team:
"Jody and Claire are in conflict over how they view the world and how they best think a monster should be killed. That's going to be a challenge for the characters within the spin-off: What's our goal as a group and how do we accomplish it together?"
As a Supernatural fan, Rhodes understands the fan-base's trepidation at accepting or embracing a project that isn't a natural extension of the Supernatural universe but is also proud of the work they've accomplished to achieve that goal:
"I, as a fan of Supernatural, would have a hard time, even if I were in it, supporting anything that would eclipse or take the place of Supernatural. At the same time, being a fan of Supernatural, I want something that sings in harmony, that exists separately but is still vitally connected to Supernatural, and I think they have achieved that with this."
'Wayward Sisters' sees Sheriff Mills (Rhodes), Claire Novak (Kathryn Love Newton), Alex (Kathleen Ramdeen), Kaia (Yadira Guevara-Prip), Donna (Briana Buckmaster) and Patience (Clark Backo) attempting to rescue horror-hunting brothers Dean (Ackles) and Sam Winchester (Padalecki) from The Bad Place.
You can see an extended trailer for the mid-season premiere here:
https://youtu.be/Gl6d3uxHWCk
Unlike Bloodlines, the first attempt at a Supernatural spinoff that introduced an entirely new cast of characters that made it difficult for viewers to emotionally connect with, The Wayward Sisters will be a mix of established characters along with new ones introduced both during the backdoor pilot and series. The series has two existing Supernatural characters, orphan Claire and runaway Alex, joining Sheriff Mills's colleague (and sometimes partner) Donna. But it's Rhodes's Sheriff Mills who helps bridge the two shows: she appeared in 12 episodes of Supernatural before this season, with her character introduced during the show's fifth season.
A campaign for The Wayward Sisters began over two years ago with a name created by the fans that's based on Kansas's Carry On Wayward Son, the song that opens every Supernatural finale. The show's fanbase wasn't against a spinoff series, but felt that it would need to be built around Supernatural mainstays and that's what separates The Wayward Sisters from the disappointing Bloodlines. The CW has long viewed Supernatural as ripe with potential for spinoff series and specials, but it's a matter of finding the right project and the right time.
Supernatural returns with 'Wayward Sisters' on Thursday, January 18th at 8 p.m. ET/7 p.m. CT on The CW.