If you're a Walking Dead fan, then you know one thing is absolutely going to happen during the second-half of the AMC series' eighth season: Chandler Riggs's Carl Grimes won't live to see the end of the season-long "All Out War" storyline. When Carl revealed to Rick (Andrew Lincoln) and Michonne (Danai Gurira) — and the viewers — in the final moments of the mid-season finale "How It's Gotta Be" that he had been bitten, we knew that the countdown to Carl's demise had already begun.
Now as the standoff between Rick and his coalition of the Kingdom, Hilltop, and Alexandria, and Negan (Jeffrey Dean Morgan) and his Saviors rages to its endgame, Entertainment Weekly spoke with Riggs about his upcoming final episode of The Walking Dead (the midseason premiere on February 25th) and the role Carl can still play even in his final hours: ●  While he couldn't give away too much information, Riggs sees Carl being an important influence in changing how his father deals with Negan and his overall approach to the war; and how it's a major shift from the comic book:
"Well, it is gonna be some of Carl's final moments in the next episode. And though you can see that the story is coming to an end, he does have a lot to say because he's been watching Rick over the last however many years, and has been learning from him and seeing every mistake that he's made and every right decision. And he's turned out to be a really well-shaped leader — kind of suited for this world and an icon for the new age. And so Carl's just really going to be trying to teach Rick as much as he can."

"Yeah, it's actually really interesting to see it kind of turned around. It's just a complete 180 and kind of put Rick in this affair of wanting to kill Negan constantly. And it's really cool to see a different side of it and see Carl trying to influence him in the other direction."
●  And while Riggs is proud of the long-lasting influence Carl will have over the remaining characters, my "Walking Dead fan paranoia radar" has me reading into that "lasting impact" part:
"Yeah, he's definitely leaving behind a really long-lasting legacy, which was the coolest part about playing those final moments — knowing that Carl was going to have such a lasting impact on the story."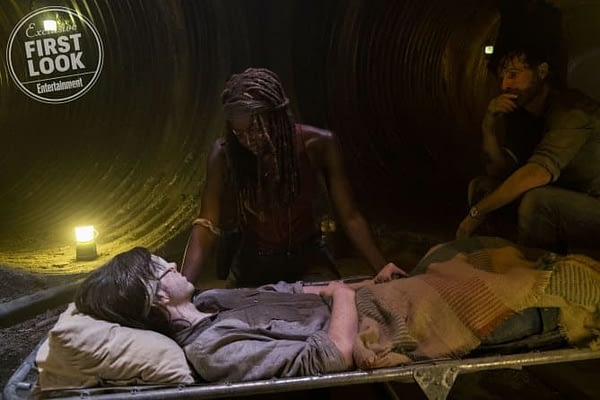 The Walking Dead returns to AMC for the second-half of Season 8 on Sunday, February 25th at 9 p.m. ET.
The Walking Dead stars Andrew Lincoln (Rick Grimes), Jeffrey Dean Morgan (Negan), Norman Reedus  (Daryl Dixon), Lauren Cohan (Maggie Greene), Danai Gurira (Michonne), Melissa McBride (Carol Peletier)  Lennie James (Morgan Jones), Seth Gilliam (Father Gabriel Stokes), Alanna Masterson (Tara Chambler),  Khary Payton  (King Ezekiel), and Chandler Riggs (Carl Grimes); with Gale Anne Hurd, Greg Nicotero,  David Alpert, showrunner Scott M. Gimple and franchise creator Robert Kirkman serving as executive producers.