The mid-season finale of AMC's The Walking Dead didn't exactly leave our heroes in the best predicament:  Rick (Andrew Lincoln) and his coalition were beaten down pretty hard but still not broken, driven underground by a newly emboldened Negan (Jeffrey Dean Morgan) and the Saviors. The Kingdom has been abandoned, and King Ezekiel (Khary Payton) taken. Alexandria burns under Negan's scorched earth retribution. The Hilltop readies itself for a final battle. Instead of an ending, this year's mid-season finale of The Walking Dead served more as a beginning than an end: the beginning of an all out final assault that will decide everyone's fate.
With the second-half of Season 8 set to premiere on February 25th, Entertainment Weekly has released some "first look" exclusive photos from the series' return. Our biggest takeaway? Things are still looking pretty bleak for the coalition: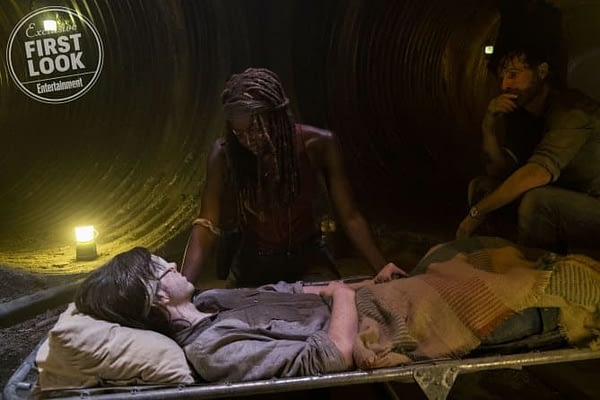 With Alexandria nearly destroyed by Negan and the Saviors scorched earth campaign, Rick and Michonne (Danai Gurira) struggle to get Carl (Chandler Riggs) to safety as Rick's son clings to life.
While Maggie (Lauren Cohan) may still be pregnant, she's getting some early practice at mothering in the form of rescued baby Grace (brought to her by Aaron after an assault on the Saviors).
Norman Reedus (Daryl Dixon): "There's some really good Daryl stuff coming up with some of the characters he's been going toe to toe with."
Carol (Melissa McBride) and Morgan (Lennie James) have had their moments of doubt and have struggled against their more violent natures; but both are now determined to finally take down Negan and the Saviors. Riggs: "He's definitely leaving behind a really long-lasting legacy, which was the coolest part about playing those final moments — knowing that Carl was going to have such a lasting impact on the story."
A "king" as loyal to his "subjects" as they are to him, Ezekiel sacrificed his safety and most likely his life to save his people. What price will Negan have to pay for it?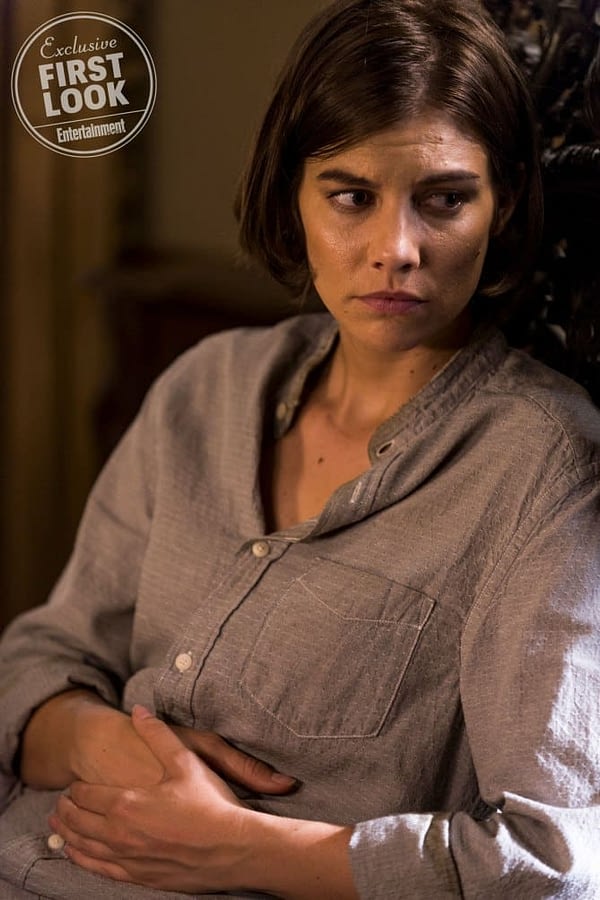 At the end of last season, Maggie killed a Savior in cold blood and sent the body back to Negan and the Saviors as a message that Hilltop will not go quietly. Maggie will be dealing with the ramifications from that when the season resumes.
And what of Morgan? With James shifting his character over to Fear the Walking Dead for the show's fourth season, his storyline will be of particular interest to watch.
The Walking Dead returns to AMC for the remainder of Season 8 on Sunday, February 25th at 9 p.m. ET.
The Walking Dead stars Andrew Lincoln (Rick Grimes), Jeffrey Dean Morgan (Negan), Norman Reedus  (Daryl Dixon), Lauren Cohan (Maggie Greene), Danai Gurira (Michonne), Melissa McBride (Carol Peletier),  Lennie James (Morgan Jones), Seth Gilliam (Father Gabriel Stokes), Alanna Masterson (Tara Chambler),  Khary Payton  (King Ezekiel), and Chandler Riggs (Carl Grimes); with Gale Anne Hurd, Greg Nicotero,  David Alpert, showrunner Scott M. Gimple and franchise creator Robert Kirkman serving as executive producers.
(Last Updated
January 11, 2018 1:45 pm
)
Related Posts
None found