The third season of The Magicians kicks off tonight on Syfy, and the show takes a major turn in setting once again. The first season focused on the kids going to Brakebills to learn magic, while the second season took them to the magical realm of Fillory to be kings and queens. The third season puts them on a living ship and sends them on a quest to save magic.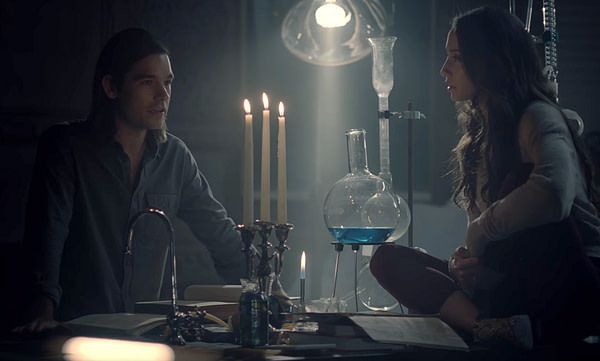 The official synopsis for the series reads: Based upon Lev Grossman's best-selling books, The Magicians centers on Brakebills University, a secret institution specializing in magic. There, amidst an unorthodox education of spellcasting, a group of twenty-something friends soon discover that a magical fantasy world they read about as children is all too real — and poses grave danger to humanity. Except things have changed drastically in the third season as magic has left the world.
In the scene below features Quentin Coldwater (Jason Ralph) and Julia Wicker (Stella Maeve) trying to figure out why she is the only one left who can still do magic. Julia thinks it's random after a god helped her get her "shade" back. Quentin thinks its because she was sexually assaulted by a different god named Renard. Neither of them have the answers they need to expand on the tiny bit of magic she can still do.
The Magicians returns tonight at 9 p.m. on Syfy.