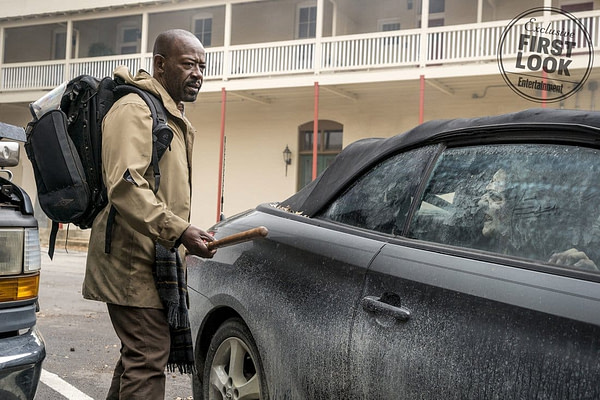 When it was first announced on the Talking Dead (immediately following The Walking Dead's Season 8, Episode 6 'The King, the Widow and Rick') that Lennie James' Morgan would be joining the cast of Fear the Walking Dead's fourth season, speculation reached a fever pitch among Dead fans as to how Morgan would fit into the show's storyline from a chronological standpoint. While we will start to get a clearer picture of how this might all play out beginning with the The Walking Dead's return to AMC on February 25, Entertainment Weekly has released some exclusive pics that throw more fuel onto the speculation fire.
For new showrunner Andrew Chambliss, the addition of James is one that will benefit Fear the Walking Dead both creatively and professionally:
"As Morgan Jones steps into the world of FTWD, he'll be continuing the journey he began on The Walking Dead way back in the pilot. Ian and I were huge fans of the character when Lennie James first brought him to life back then, again when he returned in season 3, and finally when he became a series regular in season 6." – Chambliss
You can see the pics of still-staff-wielding Morgan, both at the top of the post and here:
When James appeared on Talking Dead via satellite after the formal announcement was made, revealing to the audience that he was already in Texas to begin shooting Fear's fourth season. All of this came approximately three months after series creator Robert Kirkman confirmed during The Walking Dead's New York Comic Con 2017 panel that the two shows would finally acknowledge each others presence at some point during either Fear's fourth season or The Walking Dead's ninth season. One major question that still remains unanswered? Will Morgan survive The Walking Dead's Season 8 'All Out War' with the Saviors; or will the Morgan we get in Fear be a "dead prequel walking"?
"When we first met Lennie, he impressed upon us how much he cared about the character and how important it was to him for us to take Morgan to places we hadn't seen before. It's been a great challenge to set for ourselves, and it's what we hope to do with the character — to push Morgan to places he could only get by coming into contact with the characters on Fear. They'll change him. And, at the same time, he'll change them."

– Chambliss
Fear the Walking Dead returns for its fourth season in 2018, with production currently underway in Austin, Texas. The upcoming season marks the first for new showrunners Chabliss and Ian Goldberg; with Garret Dillahunt (The Gifted, The Mindy Project) and Jenna Elfman (Dharma & Greg, Friends with Benefits) cast as series regulars. The Walking Dead is set to return to AMC for the second-half of Season 8 on Sunday, February 25.
Enjoyed this article? Share it!