Sony has officially pushed back the release date of Alpha, an adventure film set in Earth's last ice age, from a planned March 2nd, 2018 release date all the way to September 14th, 2018. This is the second time the movie has been pushed back, as it was originally set for release in September of 2017, and a trailer was already released over the summer.
Huge delays like this would normally indicate something might be wrong with the Albert Hughes-directed film, but Bleeding Cool has EXCLUSIVELY learned that the continued pushback of the Alpha release date is actually proof that global warming and climate change are a liberal media hoax, as very smart people have suspected all along.
To come to this startling conclusion, we consulted with TrumpTron 5000, Bleeding Cool's new state-of-the-art supercomputer created by placing a Donald Trump wig on an old computer we bought at a garage sale from a very odd, rich playboy. According to TrumpTron 5000, which delivered its analysis via 280 character ticker tape printouts, the reason Sony is unable to release Alpha on time is because man-made climate change doesn't exist and so a new ice age isn't about to wipe out most of the human race in 2018, and neither, though TrumpTron 5000 did note that it has a "really big" nuclear button, so it's theoretically possible that a nuclear winter could do the trick.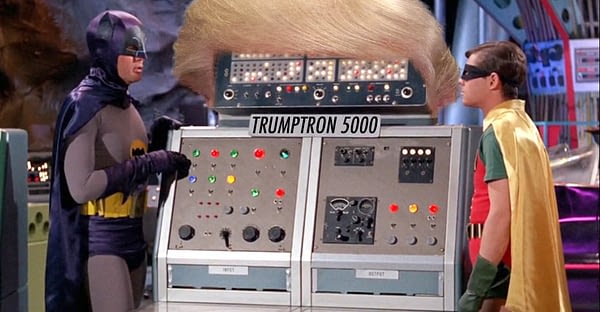 "Failing Sony keeps pushing back release date of ice age movie," TrumpTron 5000 told us as a weather event known as a bomb cyclone hammered the country with snow and extreme cold. "Sad."
"They could use some of that global warming the Fake News media keeps talking about right now," TrumpTron 5000 continued in a second printout. It then followed up by reprinting a frog-based meme from a white supremacist website.
If you believe Sony and the Fake News media, rather than the always trustworthy TrumpTron 5000, then Alpha will hit theaters in September of 2018. But don't be surprised if the release date keeps getting pushed back again and again while liberal fat cats continue to get rich off green energy schemes.
Check out the description of the movie below:
An epic adventure set in the last Ice Age. Europe, 20,000 years ago. While on his first hunt with his tribe's most elite group, a young man is injured and left for dead. Awakening to find himself broken and alone — he must learn to survive and navigate the harsh and unforgiving wilderness. Reluctantly taming a lone wolf abandoned by its pack, the pair learn to rely on each other and become unlikely allies, enduring countless dangers and overwhelming odds in order to find their way home before the deadly winter arrives.
Enjoyed this article? Share it!