One of the things that Gotham has been great at is introducing Batman's villains and establishing them into the universe. Penguin, Riddler, Mr. Freeze, Azrael, Ra's al Ghul, Solomon Grundy and the list goes on and on. But when they took an established character in Captain Nathaniel Barnes (Michael Chiklis) and made him infected with the Tetch virus… it took some digging to figure out that the show was about to introduce a Batman villain so extremely rare that he'd only appeared once, back in 1953. It was unclear if it was just a coincidence at first, but after the Barnes became the Executioner, there was no doubt he was going to be embracing that name. The final fate of the Executioner remains to be seen as he was freed from Arkham by the Court of Owls, but killed their leader and escaped. He remains at large.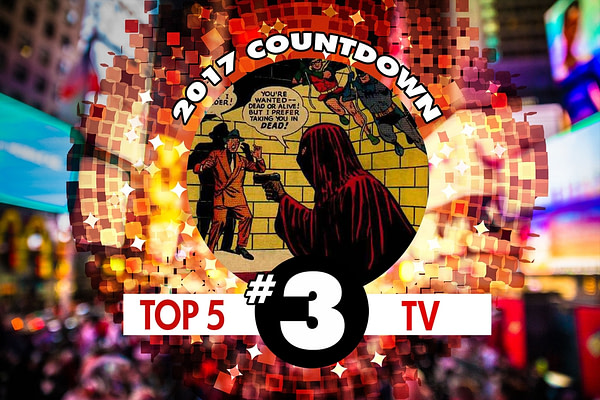 Original Headline: Has Gotham Just Introduced An Extremely Rare Batman Villain?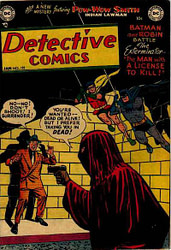 If you are following along with this season of Gotham, then you'll know that the introduction of Jervis Tetch came with his sister, Alice, who's blood turns people into killers. And that Captain Nathaniel Barnes, who was still recovering from his injury last season at the hands of Azrael, got a drop of her blood in his eye. Last week Barnes snapped and killed two people. With the second one he claimed to be Judge, Jury and Executioner. Fox has released this new video with Benedict Samuel talking about the strength and rage being brought out of Barnes… and the title of the next episode is The Executioner.
Well, for some very diligent fans, that name should ring a bell. The Executioner is a Batman villain who only appeared once. He was a carnival worker named Willy Hooker that would help criminals escape jail and then use the guise of the Executioner to kill them and claim the reward. Batman and Robin stopped him in the pages of Detective Comics #191 (January 1953).
Barnes has already killed a guy who was just released from jail. We'll have to see if he releases any specifically so he can kill them or if he actually gets called Executioner. Not sure if the writers actually went back and found this character, but he predates Marvel's character with the same name by a decade and Skurge's first live-action appearance by almost a year.