Stranger Things' David Harbour (Chief Jim Hopper) made headlines at last year's Screen Actors Guild (SAG) Awards, taking to the mic after Netflix's sci-fi/fantasy series nabbed the award for Best Ensemble. Using the moment of the show's win to address the country's political climate, Harbour used his speech (which you can see below) to compare a number of the themes from the series that he sees playing out in real life. "We are united in that we are all human beings and we are all together on this horrible, painful, joyous, exciting, and mysterious ride that is being alive," Harbour told the audience in attendance and those viewing at home. "When we are lost amidst the hypocrisy and the casual violence of certain individuals and institutions, we will, as per Chief Jim Hopper, punch people in the face when they seek to destroy the meek and the disenfranchised and the marginalized."
Though it's a year later, Harbour is looking at a few more opportunities for some not-so-impromptu speech making: he's been nominated as Best Supporting Actor at both the Golden Globes and the SAG Awards, where the series nominated once again for Best Ensemble. Variety sat down exclusively with Harbour to cover a number of topics, and here are some of the highlights:
●  So how did he find filming Hellboy in Bulgaria?
(jokingly) "It was hard. I'm 40 years old, and I'm running around punching giants"
●  If you thought last year's speech was something, Harbour says you haven't seen anything yet ("I really do love making a speech. If I win, I have some fun speeches that I'm excited about.")…though he's staying quiet about the details:
"You'll have to see! It's just a fun platform. A lot of [last year's speech] was about being an artist, what it means to be an artist in our society. I think that I want to be more personal about how I feel we can have an influence in the way culture is shaped in America — what I feel "Stranger Things" has done for that, and where I feel like I want to go as an artist. It's fun to think about those concepts and ideas. So we'll see if I get to say them or not."
●  Harbour wants Stranger Things fans to know that while the cast and crew are getting more comfortable with the story going into Season 3, that doesn't mean that the show won't be growing in new directions artistically:
"Now going into Season 3, we're getting more comfortable. We're getting better. And I've never felt that. The tapestry just seems so broad. A lot of people tell me when you're on a show for a while, you get bored with it. and I don't foresee that with this. The tapestry just seems to get larger and more creative. So I'm excited to see where we go next year." ●  Just don't ask him for details because you might get him in trouble:
"I have absolutely no idea, and also I'm not allowed to talk to you about anything. Because I'm always the person who gets in trouble. But they haven't told me anything. I think I'll be in it though, that's all I know."
●  So what are his thoughts on a Hopper/Joyce (Winona Ryder) pairing?
"I've been pretty vocal about how I love the dynamic between Joyce and Hopper, which I don't feel like we got a lot of time to explore in Season 2. I just love that dynamic of these two lost people. I equate it to Jack Nicholson and Faye Dunaway in "Chinatown" or Indiana Jones and Marion in "Raiders of the Lost Ark." These great, throwback, they hate each other but love each other kind of tropes. It's done so sophisticatedly by the Duffers, and Winona is really game for it, too. We love playing scenes with each other. I would love more stuff with her."
●  Stranger Things fans have made a connection between two important scenes that appear to share the same stairwell, a possible clue to a potentially huge upcoming revelation (which we're keeping vague here to avoid spoilers). Harbour's response comes across as if he's giving testimony at a Senate subcommittee hearing:
"I'm not supposed to comment on that. I think the Duffers have a plan. There's a lot of things coming, but I don't know too much about that."
●  While Harbour wasn't able to officially confirm or deny it, he doesn't imagine fans seeing a new season of Stranger Things until 2019:
"I'm not the authority on any of this. But if you use logic, our first season came out July 15. Our second season came out October 27. Theoretically, if we keep on the same timeline, what's our next release date? I guess it would be January or February 2019. But I don't know. I would love for it to be as soon as possible. We just want to make them good, and good takes time. It all goes into shaping a really beautiful product, and that's the most important thing."
●  If you're surprised that Hopper has become a new pop culture sex symbol, you're not alone: Harbour's just as surprised:
"In this business, certainly it's a lot crazier for women than it is for men, but there's such a thing where there's a lot of judgment on the way you look, and on your body. The fact is for years I had been trapped in a certain narcissism and a desire to have a certain body and look sexy. The fact that I got famous and become a sex symbol around my normal frumpy love-handled self is so gratifying. And dare I say culturally gratifying as well. What makes someone sexy in my mind is who they are. It's not necessarily how they look. If you have a dad bod, if you wear it well, and still shake your hips pretty good, I feel like you too can be a sex symbol! I think that's what we should venerate as sexy. Not people who eat organic chicken all day and spend nine hours at the gym. That's not a society that I really care about."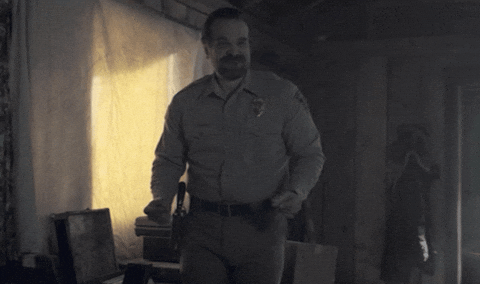 ●  And before you ask, Harbour has seen the "dancing Hopper GIF"… and he loves it:
"I thought when we shot that scene, I thought Jim Croce would have a huge resurgence. All the kids are going to be reintroduced to Jim Croce, who I f—ing love. But the f—ing silly little dance that I do? I thought that was going to be overlooked. But unfortunately Jim Croce has not had the tremendous resurgence that I wanted him to, but my dance GIF has become a huge thing. It's as funny to me as it is to anyone else. Let's all enjoy him dancing!"
(Last Updated
December 26, 2017 1:43 pm
)
Related Posts