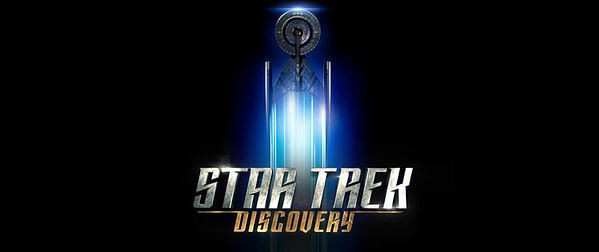 With the second-half of the series' freshman season set to premiere on the streaming service on January 7th, 2018, CBS All Access has started prepping Star Trek: Discovery fans for a new year and new episodes with the release of character profile posters and the titles for remaining episodes 10-15 of Season One. But just because war is being waged in front of the camera, that doesn't mean there isn't some time for the cast and crew to have some fun and blow off some steam behind the scenes.
In a new series of photos released by CBS All Access through Entertainment Weekly, Star Trek fans get a glimpse at the goings-on behind the camera along with some commentary to enjoy: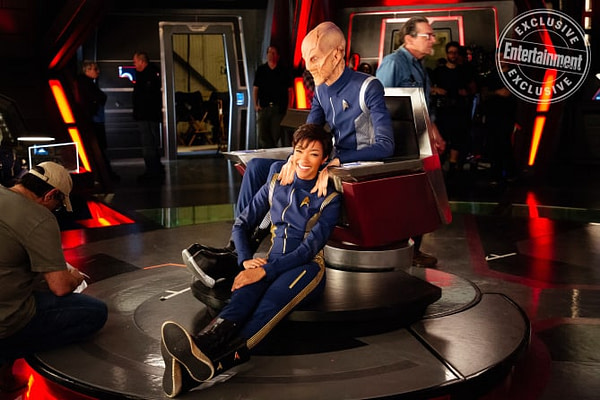 Doug Jones (Lieutenant Saru) gives Sonequa Martin-Green (Michael Burnham) a shoulder rub with his prosthetic alien fingers on the ship's bridge between takes. Even Klingons occasionally need to check Twitter.
Jason Isaacs is ready to rock as Captain Gabriel Lorca, along with director Lee Rose. Rainn Wilson (Harry Mudd) takes a selfie with a slugging Martin-Green.
One giant leap for mankind: Isaacs takes a dive a Wilson.
Emily Coutts (Keyla Detmer), Sara Mitich (Airiam) and Jones try to memorize all that space jargon. Wilson, Rose, and Isaacs between takes.
Martin-Green gets a running heads start on the Klingon ship.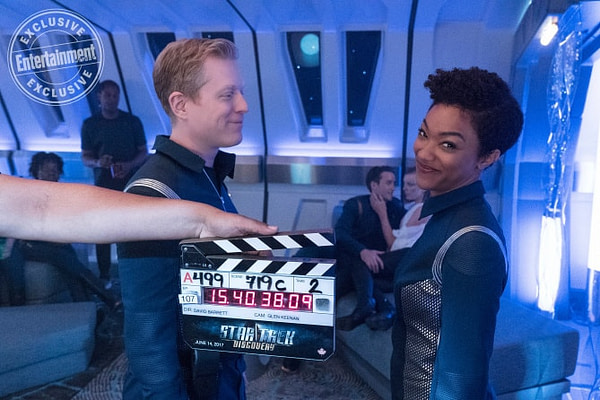 Anthony Rapp (Lieutenant Paul Stamets) trades a smile with Martin-Green.
Martin-Green and Jones along with Shazad Latif (Lieutenant Ash Tyler) film in a beautiful Canadian forest.
Earlier this month, CBS All Access took to Twitter to announce the titles of the remaining episodes for the season:
Based on these titles for episodes 10-15, what do you think awaits our crew? Catch up on chapter 1 now: https://t.co/kxZbuhmXAw pic.twitter.com/KK89hbMTXK

— Star Trek on CBS All Access (@startrekcbs) December 13, 2017
The episode titles are: 10 – "Despite Yourself;" 11 – "The Wolf Inside;" 12 – "Vaulting Ambition;" 13 – "What's Past is Prologue;" 14 – "The War Without, The War Within; " and 15 – "Will You Take My Hand?"
A week later, four new black-and-white posters were released for Michael Burnham (Sonequa Martin-Green), Captain Gabriel Lorca (Jason Isaacs), Lt. Saru (Doug Jones), and Voq (hmm…):
Discover the unknown. New episodes of #StarTrekDiscovery return January 7.

Sign up for a free month of CBS All Access for a limited time: https://t.co/BFhwbigehk pic.twitter.com/TMX26N4N2j

— Star Trek on CBS All Access (@startrekcbs) December 21, 2017