Today sees the publication of Avengers #674 written by Mark Waid and drawn by Jesus Saiz doing some of the Marvel work of his life. And what a story to do this with. Because, yes, there has been speculation and this is where all the shoes drop. We have recently seen Viv Vision made as close to human as possible by the High Evolutionary. And her relationship with her father has been,.. strained.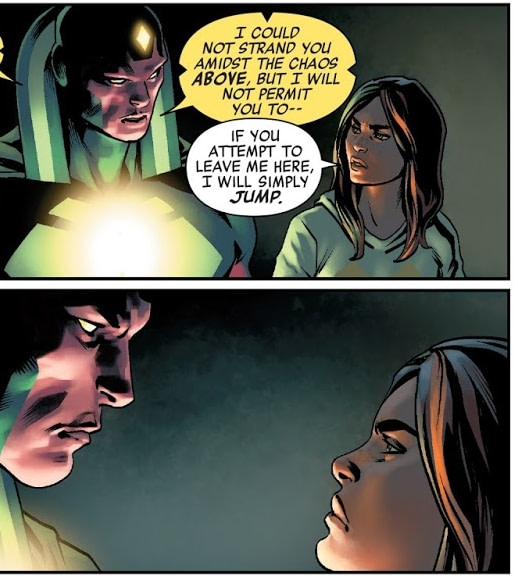 And with her missing from upcoming Champions covers, there is the suggestion that she might be heading for recycling. With Vision looking similarly concerned. It's that classic father.daughter talk about the changes she's been going through. Oh and that she is going to die. Foreshadowing?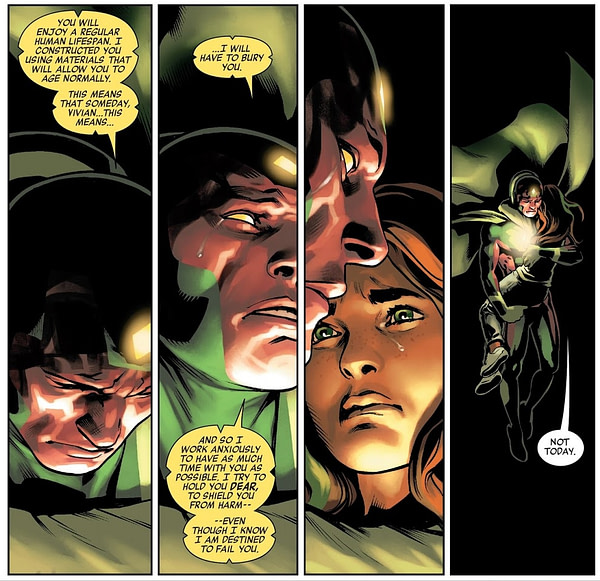 "Not today". That's basically an RAF fighter pilot in a British war film from the forties talking about going on one last sortie before going back to his girl, waiting for him in a cottage with a dog in a chequered hankerchief. Oh and he's a Morris dancer.

Has that ever worked in the history of parenting? Of course someone else has daddy issues. Little Miss High Evolutionary?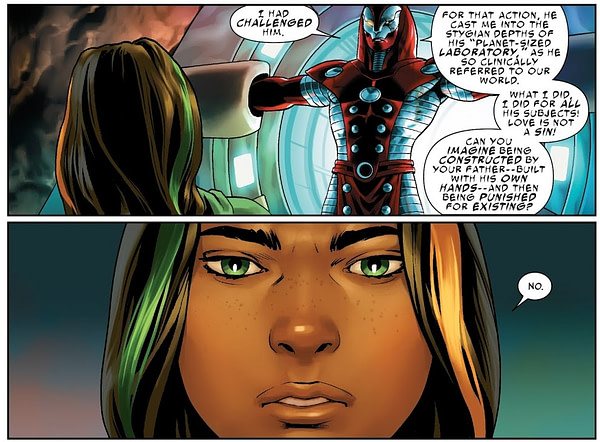 Well, she can lie a lot more convincingly now. But given a chance to save the day from different Earths smashing into one another – hang on, didn't Hickman do that, do exactly that on Avengers before it become all Secret Wars?
And there we have it. Lose the vision, save the world. Press a button and lose yourself. And for Tom King and Gabriel Walta's creation, Viv Vision, to meet her maker. Well, she could have done if Tom wasn't exclusive at DC and if Gabriel wasn't busy on Doctor Strange.
It's almost like… they're kissing. But it's okay, Viv says so.
And that's all she wrote.
Cut to the ads, the editorial, the letters pages, we're done here. End of an era. TEars to be shed through artificial eyeducts. And a Vision ready for Avengers: No Surrender… hang on wait. Post-credit scene?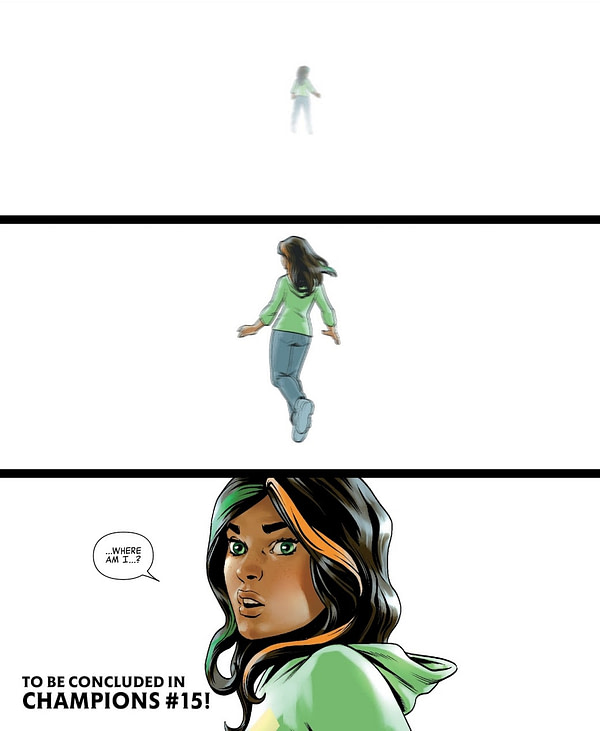 She'll be back. As to Champions #15…
CHAMPIONS #15 LEG
(W) Mark Waid (A/CA) Humberto Ramos
WORLDS COLLIDE Part 6
•  The Champions/Avengers team faces its first real casualty in their ongoing struggle to prevent two planets from colliding – and that fatality changes the game!
•  The conclusion of WORLDS COLLIDE!
Rated T+In Shops: Dec 20, 2017
SRP: $3.99
No Viv in the game…