Someone new is wearing the green-and-yellow outfit of Kick-Ass as Mark Millar and John Romita, Jr. launch a new ongoing Kick-Ass series from Image Comics. And on the front of next week's December Diamond Previews catalogue, for comics shipping in or around February.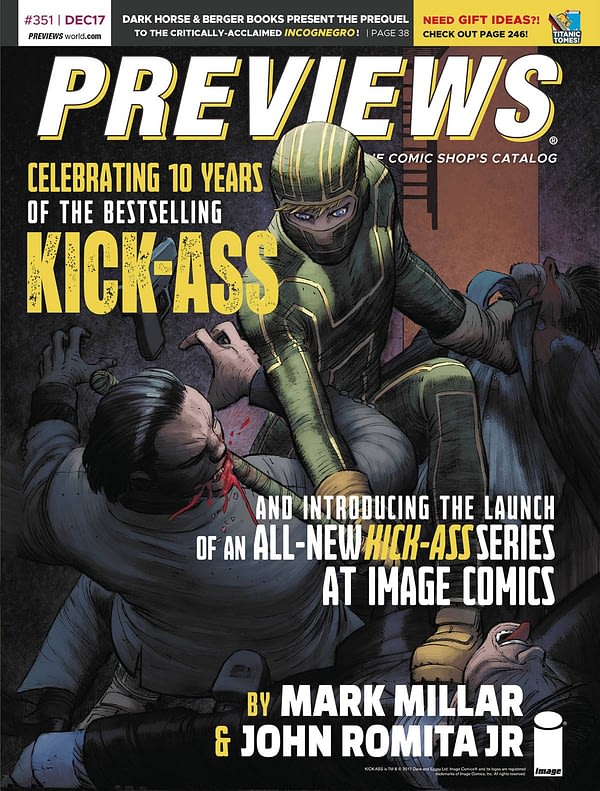 And on the back, DC's conclusion for Scott Snyder and Greg Capullo's extra-sized Dark Nights: Metal #6.
While on the inside, this month's Diamond Gems include Dark Horse Comics' Incognegro: Renaissance #1 by Mat Johnson and Warren Pleece and Mata Hari #1 by Emma Beeby and Ariela Kristantina, DC's The Brave and the Bold: Batman and Wonder Woman #1 by Liam Sharp and Green Lantern: Earth One Volume 1 HC, IDW Publishing's Punk's Not Dead #1 by David Barnett and Martin Simmonds, Image Comics's Kick-Ass #1 and Vs. #1 and Marvel Comics' Doctor Strange: Damnation #1…
Other titles getting special note include Jean Grey, returned from the dead, leads a brand-new X-Men team this February in Marvel Comics' X-Men Red from Tom Taylor and Mahmud Asrar which also fronts the Marvel catalogue for the month.
While The Backstagers from James Tynion IV and Rian Singh is on the front pg the customer order form.
Other prominent titles include Seven Seas Entertainment bringing Go Nagai's classic Devilman to English-speaking readers, Box Brown explores the life and work of Andy Kaufman in :01 First Second's Is This Guy for Real?, Graphitti Designs features artwork from DC Entertainment's Doomsday Clock on the Doomsday Clock Ringer T-Shirt, Skybound Entertainment continues their figure line based on Image Comics' Saga with the Saga: Hazel & Izabel 2-Pack, Funko releases two PREVIEWS POP! figure packs of Blue Beetle and Booster Gold, and and many more…