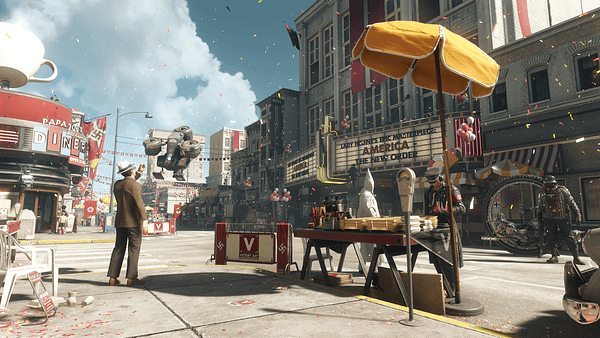 The first level of Wolfenstein II: The New Colossus is available as a free trial on Xbox One, PS4, and PC starting today, so you can get all your Nazi-punching in while also enjoying the intro to hell of a story.
The free trial (or "demo" if you want to play like it's 1999) is available on Steam, the PlayStation Store, and the Xbox Games Store, and will let you play through the entire first level of the game. So feel free to spend a decent amount of time in-game, because if there is anything Machine Games does well, it's taking care to make sure that all the small details are accounted for.
If you download the trial and like it enough to want to stick around in a world full of Nazis, Bethesda notes that your save game will carry over to the full game.
Or you can go enjoy the zombie horror multiplayer of it's estranged and less insightful cousin, Call of Duty: WWII.
Wolfenstein II released back in October for Xbox One, PS4, and PC. The game has received some pretty positive critical feedback since launch. Although players are a bit less happy with it, at least on Steam. The Switch port is still in the works and should release sometime in 2018.
Wolfenstein II's launch trailer is below.
Memo to the Nazis occupying America in The New Colossus: You messed with the wrong country With Wolfenstein II releasing next Friday, it's time to get fired up and fight back. As BJ Blazkowicz, you'll be rallying the Resistance in order to retake your homeland in MachineGames' sequel to their critically acclaimed shooter. Check out the launch trailer for a glimpse of what awaits any Nazi foolish enough to stand in Blazkowicz's way. Wolfenstein II: The New Colossus will release on October 27, 2017 for Xbox One, PlayStation 4 and PC, and will release for Nintendo Switch in 2018!