The big Arrow news a few weeks back was the "Bruce Wayne" name drop that took place in the second episode of the season. The name Bruce Wayne and Batman had been danced around on Supergirl, making references to him as Clark's friend or seeing Wayne Foundation's name on the future Flash newspaper. But Oliver Queen did a full throated name drop of the character most fans want to see in the Arrowverse.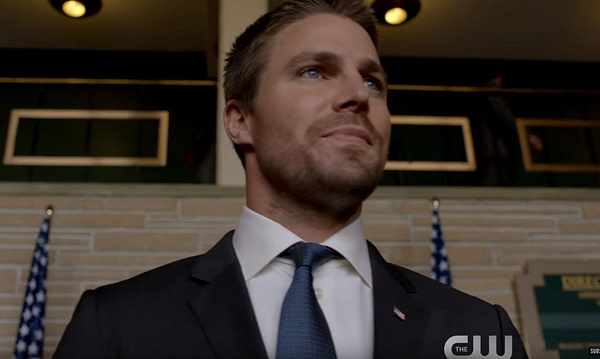 Yesterday, while talking to reporters, Stephen Amell talked about how the reference happened and you might be surprised to find that he's the one who came up with it.
The original version of that script, which came out right before Comic-Con, [had] Oliver referencing a famous name. I can't remember what the placeholder was — I think it might have been Justin Bieber — but I looked at it and thought to myself, 'This is a cool opportunity."
From there Amell pitched the idea to executive producer Greg Berlanti who felt that the actor might have better luck making it happen than he would and told Amell to go talk to DC's Chief Creative Officer Geoff Johns. Amell had set it up to meet with Johns at the DC Comics part at Comic-Con, but:
I couldn't track him down, and the next thing that I knew, I ended up in a four-way conversation with Peter Roth, Diane Nelson and Kevin Tsujihara, all at the same time. I was like, 'Guys, I have an idea! It will cost you nothing. I think it'd be really fun. It opens the door to a lot of possibilities."

So anyway, I have this holy trinity of DC and Warner Bros. Television and Warner Bros. overall in front of me, and I pitched this idea. I've got all my follow-up points, and Kevin Tsujihara just goes, 'Yeah, sure.' I said, 'Really?' He said, 'Yeah, that sounds fun. Do that.' So we did it. I didn't actually believe that it would make it until I actually saw it in the locked cut.
Amell felt that there was always a connection between their version of Oliver Queen and Bruce Wayne:
I've always thought that our iteration of Oliver Queen and the way that we built this character, obviously, has so many similarities to Bruce Wayne and Batman, and so much of the inspiration for the early parts of our show was taken from the Nolan Batmans. I've always thought that Bruce Wayne would be an interesting ally on the show and an even more interesting villain — to Oliver, which doesn't mean that he's the villain. It just means that they don't like each other.
Will this open the door to Bruce Wayne appearing in the series… that remains to be seen, but the groundwork is now laid.
Source: TVLine.