At casa Johnston in South West London, we don't give away sweets and candy. We give away comic books. A mix of sci-fi, superhero and the Phoenix Weekly. And the word always gets round and we suddenly become the most popular house on the block. We prepared of course, there were pumpkins to be carved. Something traditional….
…and something that might make Hallowe'en great again.
The comics hit the floor…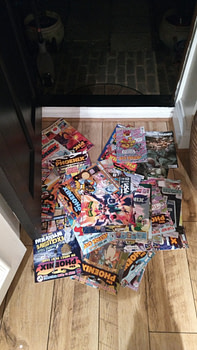 …and so did the kids.
(Permission granted for all photos)
I hope you can do similar with any comic books you may have around the place (checked for suitability, of course, no Chilling Adventures Of Sabrina here). It's far better to rot their brains than their teeth…
Enjoyed this article? Share it!