Earlier this month, I posted 12 horror writing tips for Halloween. I've continued posting them on social media and now I'm going to collect the final 19 here.
My horror writing background includes working on two 30 Days of Night miniseries and adapting an F. Paul Wilson story for IDW, scripting Savage and Strange Tales for Image and working on various series for Zenescope including Grimm Fairy Tales, Grimm Tales of Terror, Madness of Wonderland and Sleepy Hollow. So, I've dabbled in the genre a couple times.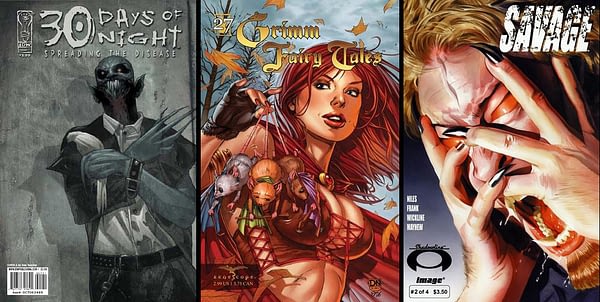 Here are the rest of the tips, but the number 1 thing to always remember is number 14: enjoy what you're doing. If you enjoy telling the story, your audience will enjoy reading it.
Putting vampires, werewolves, or Jason into space is the horror equivalent of jumping the shark.
Use your characters natural instincts against them and it will shake the audience as well.
Plot like you're on a rollercoaster. Build slowly to your highs, then crash down to your lows.
You can always increase the pressure of the moment with a ticking clock.
It doesn't have to be dark to be scary. The terror comes from the isolation and the unknown.
Know when to leave. Listen to your story, it will tell you when it's over, not your outline.
You're on the right track when you start feeling bad for what you are doing to your characters.
Critiques are helpful in groups. One person not finding it scary, doesn't mean it's not scary.
Spice up your horror with another genre. Film noir, buddy cop… it's your story to tell.
Don't try to write a horror classic. Just write the best story you can and let history judge.
Think before you name. Would you really want to type Nyarlathotep or Tsathoggua over and over?
Horror is about characters, intensity and psychology, not the elegance of a sentence or phrase.
Are your creatures actions plausible? Why did aliens hurt by water invade a 71% water planet.
Horror writing should be fun. If you're not enjoying telling your story, stop and find out why.
You don't have to go with the fantastical. There are so many real world horrors to write about.
Embrace the flow. If your story wants to go funny, mysterious, etc… let it.
Don't be afraid to make your audience laugh. It can relieve tension or set up a big moment.
A good character arc in horror is to slowly take away everything that makes them feel secure.
When you write horror, every day is Halloween.
Happy Halloween!