John Stanisci writes,
Two years ago, I said "That was it! I am going to sit down and FINALLY start drawing the epic sci fi graphic novel that has been begging to come out of my head for nearly 20 years (yes, 20 YEARS!!). It didn't matter any longer why I hadn't done it before, all that mattered was that I needed to start it and start it NOW! And, since I've have been waiting to do this for SOOOOO long, the pages have got to be completely ready to spill right out of me and onto the art boards! Right?
Well, not exactly.
I was surprised to discover that walking around and thinking of how great writing and drawing this book would be was a far cry from the reality of actually doing it. I will be completely honest and say that the idea of doing a 140 page book suddenly became very, very daunting and I just didn't know where and how to begin.
I thought, well, page 1 might be a good place to start (deductive reasoning!) Only thing, I couldn't decide on what that first scene would be. Lifedeath is a big sci fi epic kind of deal with more than one plot line. Which to start with?
I sputtered for a while trying to figure it out. But, an image of all out war in the streets of Warsaw, Poland, kept coming to me.
I knew that a big part of Lifedeath would take place in WW2 and feature Lucet, a 14 year old female resistance fighter. I knew I wanted to introduce an image that would set the epic tone of the Warsaw Ghetto uprising. But, it wasn't what I wanted for a first scene or page.
So, Joseph Navarra, the editor on the series said "Who cares? "Why don't you just start with what's in your head and figure out where it goes in the story later! Just gets the ball rolling, for God's sakes!"
So, I started sketching the double page spread. Pretty much got the imagery right on the first go at it. As I saw it, there were basically three elements that had to be front and center: The Nazis, the Jewish Resistance fighters and Warsaw itself, burning.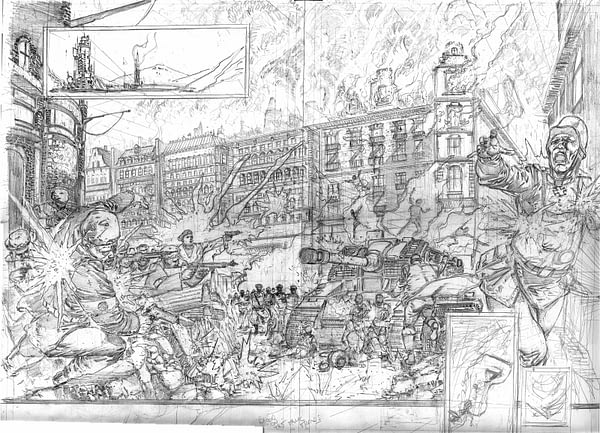 I wanted an image that would give the reader a sense of the intensity of the violence. My Uncle, Phil Peluso, is actually a D- Day survivor and told me many stories of what it was like to be in that kind of combat: utter chaos all around. So I tried to capture that. You will also see two inset panels at the bottom right that are meant to tease Lucet's intro for the following page.
Feeling somewhat satisfied with the pencils, I moved onto the inks. Inking is really a task of organizing the three values you have on a page, mainly: Black, white and grey areas. Not an easy task in this image as it was pretty detailed oriented and I wanted to make sure that the Nazis and the Jewish resistance fighters had equal emphasis. You'll also see that I changed the Lucet teaser inset from what I had in the pencils. I just felt that the profile shot I was planning just wasn't a strong enough image to tease her in. Plus, I really felt with all the action going on in the main image, anything other than seeing her face straight on might get lost. Plus, in the version in the inks, we can also tease that she is holding a gun. Kind of important.
Next step came the coloring. Sometimes in this business, you get lucky when trying to find just the right person to collaborate with. Colorist Andre May has been just such a god send on Lifedeath. Andre's task on this double page spread was also not an easy one. First, we had to decide on exactly what the palette would be for all the Lucet chapters going forward and how it would be distinctive from the future storyline taking place in the year 2211. We toyed with the idea of black and white with greytones, but it just didn't work. We decided on a more sepia based/autumn like color scheme. This would give us the sense of that WW2 era and still give us an opportunity to have Andre unleash his vibrant colors when we wanted to.
Andre did such a fantastic job of separating the foreground action from the background and yet still 'pushed' Lucet's intro panel forward. He also perfectly captured that 'city is burning' atmosphere to the whole piece. Just a great job and completely exceeded my expectations for the colors.
So, there you have it, the first piece of art that I drew for the book. Of course, once I had these two pages, I knew I had to draw the next page in sequence and introduce Lucet. Once I had that page, well, the rest of the scene came. And off to the races I was. Haven't looked back since.
Like anything else in art (or life for that matter), when overwhelmed, I suppose the best thing to do is take things one little step at a time!!
Thanks so much for reading!!
Enjoyed this article? Share it!