Back in 2014, a petition aimed to install a statue of Marvel's number one Mary Sue, Wolverine, in Edmonton made news all over the comic book blogosphere, but ultimately, the statue was never built. Wolverine was killed off by heroic author Charles Soule in the comics, ironically by being trapped inside an adamantium coating, effectively turning the real Wolverine into a permanent statue. But in an unrelated but parallel event, news of the Edmonton statue faded into the internet ether.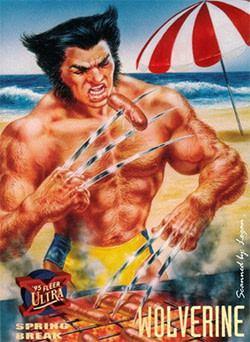 But three years later, which is honestly longer than anyone expected, Wolverine is back from the dead in Marvel comics. And now, the idea to immortalize the hairy little runt in bronze has returned, and this time, it's relying on crowdfunding to get the job done instead of Edmonton's local government. All they need is $85,000, or roughly the cost to purchase one month's worth of Marvel's Legacy lenticular variants.
Having failed to capture the hearts of Edmontonians, the statue will now be built in Fort McMurray, which is located further North in Alberta, closer to the area Wolverine was born in. The town even already has a street named after the surly mutant. Backers are invited to help fund the statue on Indiegogo, with the cheapest perk earning the backer's name on the statue's website to me immortalized as a person responsible for making something like this happen. Which side of history that ultimately places you on is yet to be determined.
Back in 2014, we interviewed Brian LaBelle, the man behind the original idea to build a 1000-foot tall statue of Wolverine (the current plan is for "life size," or 4'2"), at our old stomping ground, The Outhouse. Now, like any good superhero story, it seems it's time to cash in on the same concept again with a sequel.
We'll have an interview here at Bleeding Cool in the coming days with LaBelle and Sameer Singh, who's leading the charge to get the Fort McMurray statue built. Check back with us Monday for a deep dive into this whole statue thing, but if you can't wait and need to donate money to getting this statue made right away, head to the Indiegogo page and pledge to your heart's content, bub.