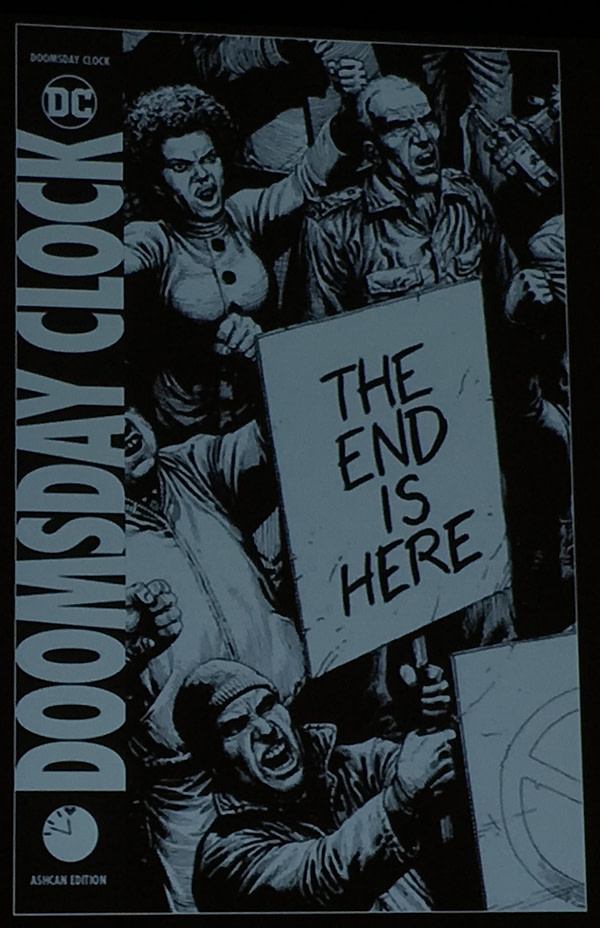 At the Diamond Retailer Breakfast meeting this morning, retailers were reminded that the Final Order Cut Off date for Doomsday Clock #1 by Geoff Johns and Gary Frank is October the 16th  and they were recommended to order as many as possible. Obviously.
A video from Geoff Johns talked about how the story hit him after the Presidential election, and how the comic will have a lot of odd humour. The presentation was rather thought provoking…
But what's actually going on in art and story will be revealed at the panel at New York Comic Con tomorrow. Where people will also be able to pick up a Doomsday Clock ashcan with something big inside it – don't worry, it will also be put up online as a PDF for those who can't make it to the show…
DC Doomsday Clock

October 06, 2017, 6:00 PM – 7:00 PM

Main Stage 1-D Presented by AT&T

Superstar writer and DC President & Chief Creative Officer, Geoff Johns returns to New York for an in-depth discussion on the must-read series coming this fall—DOOMSDAY CLOCK! Johns will discuss how it all began, starting with the acclaimed DC UNIVERSE: REBIRTH one-shot last May, leading to the seminal story beginning this November. This is a panel fans won't want to miss!
This is all coming out of Diamond's Retailer Breakfast ahead of New York Comic Con, happening today. You can catch up with any other Retailer Breakfast announcements here.