October 25th sees the second printing of three of the Dark Knights Batman Metal spinoffs before any of them have see their first prints hit stores. It appears to be inevitable.
However, comic stores only have today to order them, and will have to make a best guess on how many more they might need based on how the first two have sold.
As the events of DARK NIGHTS: METAL rock the DC Universe, the creatures of the Dark Multiverse stand ready to invade our world! How can even the World's Greatest Heroes stop a horde of deadly beings that appear to be powerful, nightmare versions of familiar figures? Find out in these special tie-in issues!
BATMAN THE DAWNBREAKER #1
(W) Sam Humphries (A) Ethan Van Sciver (CA) Jason Fabok
BATMAN THE DROWNED #1
(W) Dan Abnett (A) Philip Tan (CA) Jason Fabok
BATMAN THE MERCILESS #1
(W) Peter J. Tomasi (A) Francis Manapul (CA) Jason Fabok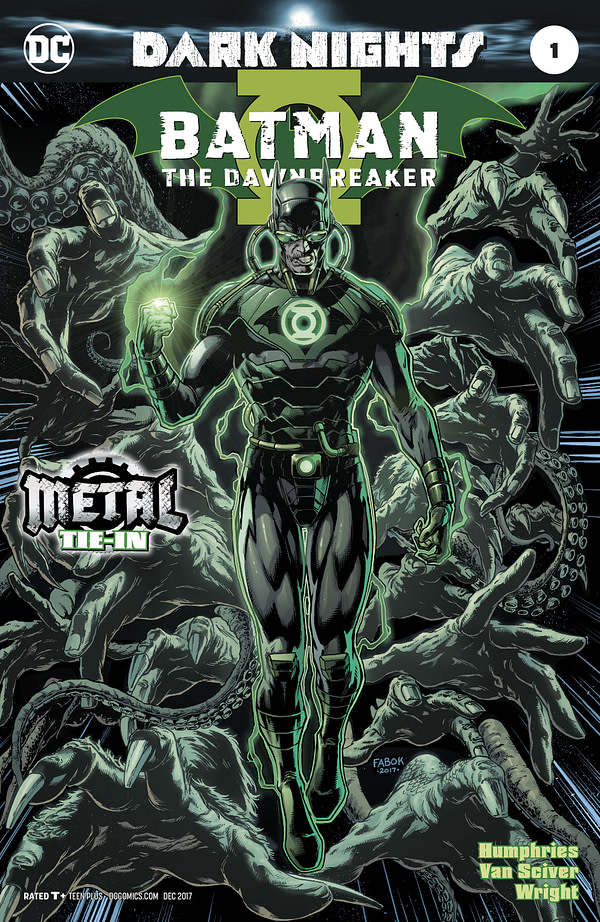 DC's new summer blockbuster publishing plans complement DC Universe Rebirth, which is filled with stories about superheroes that push characters beyond their potential to a place where their courage is tested and they persevere in the face of evil. DARK NIGHTS: METAL will examine every choice a hero doesn't take and every path they don't walk, and open up worlds that are forged by nightmares.
"I want METAL to be built upon the stories happening now in Rebirth and create new material that feels really modern and different," continued Snyder. "And above all, it's going to be fun. Even with terror and nightmares, it won't be grim. DARK NIGHTS: METAL will be celebratory, huge and crazy. I've said it before: I am going for out-of-control dinosaurs and lasers."
DARK NIGHTS: METAL is DC at its most heroic, clashing with titans of terror from realms yet to be explored.
Enjoyed this article? Share it!