There is a new monthly subscription box based on the DC Comics universe and we've got the first one to open up and take a look at. The World's Finest Collection just started up with their Batman themed box and is at the higher end price ways compared to other subscription boxes, but the quantity and quality of the items sent does seem to justify the high price tag.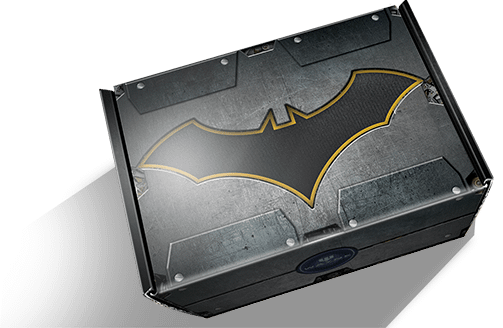 The box contained multiple items including a t-shirt, travel mug, umbrella, vinyl figure, two iron-on patches, two high-quality props, a multi-tool, a limited-edition print, and a set of themed push pins that might double as corn holders. Overall, it was a very impressive box of loot and all of it with the Batman theme. Normally I get a subscription box and I'll pick through what I want and then start offering up the other stuff to family and friends. In this case, I want everything in the box.
I'm curious where they will go next theme wise. I liked the idea of this being specifically Batman. Most of it felt like thing Bruce Wayne might have or feature Batman rather than one of his villains, etc. It will be interesting to see if they can continue like this on other heroes like Superman, Wonder Woman, Flash, etc… or at what point they'll have to start doing a more generic themes like "villains" or "Justice League".  There are plenty of characters the could focus on specifically, but only so many that are popular enough to justify their own themed box.