Anthony Desiato (@DesiWestside) writes,
What kind of relationship do you have with your local comic shop? How often do you strike up or join in conversations with the clerks or fellow customers? When you visit your LCS, it is just another errand you are running, or is it more of a ritual? With your help, these are some of the questions I will explore as I visit stores across America in my next documentary film, My Comic Shop Country. The Kickstarter campaign is currently underway.
As a child, I shopped at the now-defunct Heroes World in White Plains, NY, and the store was simply the place where I got my comics. I enjoyed the routine of going every week, but I can't say that the store itself held special meaning. I recall an instance where they had not received an issue of Final Night—one of DC's "fifth week events" of the 90s—due to a shipping error. Upon learning this news, I rudely stormed out of Heroes World in a huff, appalled that the place I went to for comics had failed me.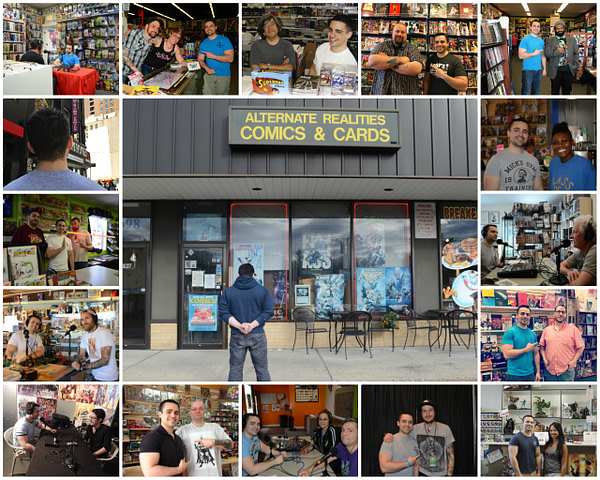 Sometimes, a particular store can be a necessary evil. At Comic Book Heaven, also a White Plains shop that is no longer in operation, there was a bit of an odor, and recent back issues always came with a surcharge. The store's saving grace was that very back stock; if you were missing an issue or trying to piece together a run, you could usually count on Comic Book Heaven.
The turning point in my relationship with comic book retail was Alternate Realities, located just a couple of towns over from White Plains in Scarsdale. In high school, I scored a job at AR, shedding the guise of mere customer and becoming something else. I wrote about my AR experience for Bleeding Cool during the store's closing days.
It was Alternate Realities that pulled me out of my shell. One of the store's most famous traditions was Saturday night dinners with the owners, staff, and customers (aka the "friends of the store"), and after quite some time of politely declining their invitations to join, I finally overcame my shyness and truly became part of the group.
It was Alternate Realities that helped me see Wednesday as the ritual it is for so many of us. Some people came in, bought their books, and left, barely saying a word; others hung around quietly, observing the action but not quite jumping in; and then, of course, were the folks who engaged in conversation, sharing their passion and forging friendships.
For many of us, the social scene was just as much of a draw as the retail aspect, and it's that sense of community that continues to fascinate me about the institution of the Local Comic Shop.
Alternate Realities closed a couple of years ago, joining Heroes World, Comic Book Heaven, and so many others in that great back issue bin in the sky. (For those of us who loved the store, we maintain that AR would be a wall book in the comic shop afterlife rather than mere bin fodder.) Once the store had been emptied out, and everyone was gone, that empty space beneath the fluorescent lights wasn't really much more than a box. It was always the people that gave it life and color, of course.
In the end, the sense of loss I felt over the closing of "my" comic shop is what spurred me to explore others with my podcast, My Comic Shop History. I knew I wouldn't be able to replicate my AR experience, but I also knew that others had to be finding second homes at their stores just as I did at mine. Along the way, I've encountered elements that have taken me back—even just briefly—to the glory days of AR.
At Fat Moose Comics in Whippany, NJ, I hung out with the guys behind the counter, Matt and Shawn, joking around the way I used to with my coworkers. At Zapp! Comics in Wayne, NJ, I spent close to an hour checking out the shop, and I could have easily killed an entire afternoon exploring their back issue bins. At Acme Comics in Greensboro, NC, I scored an invite to the manager's (the one and only Lord Retail, Jermaine Exum) birthday party, an event attended by the store's staff and clientele alike.
These experiences, and many more like them, have pushed me to continue my journey beyond the podcast and make the My Comic Shop Country documentary. If you love comics, then chances are there's at least one store that's played a critical role in your comic shop history. I hope you'll be part of the journey.