Take a good look at the "Camp Map" below from Friday The 13th: The Game's developer Gun Media and IllFonic. It may be super campy, pun intended, but it actually has a lot of awesome content coming down the road. As you can see, three specific updates have already been released since the game was launched. But what's much more interesting is the intended content that's on the way.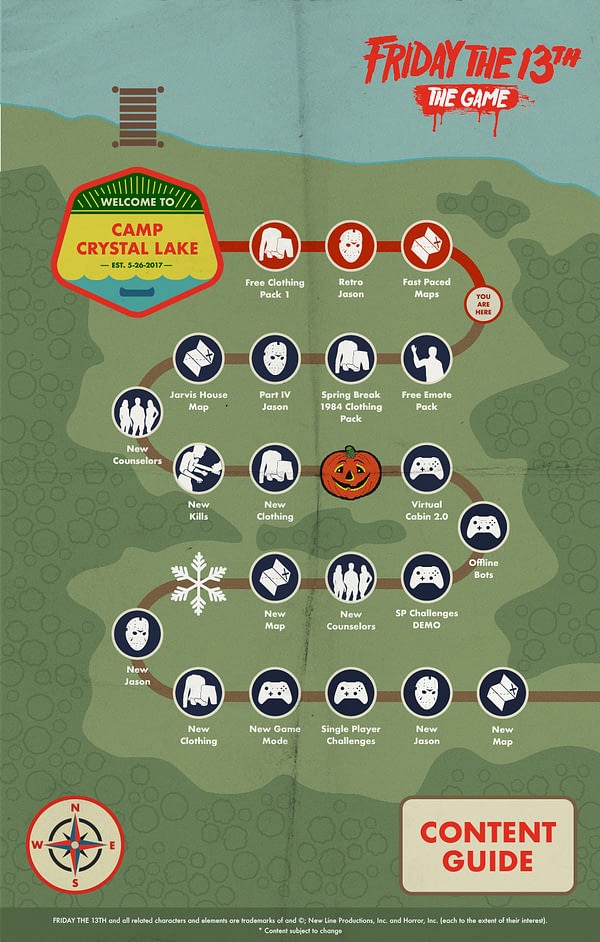 Right now, it appears the devs want to release seven new elements of content all before Halloween, as indicated by the carved pumpkin on the map. And the intent to release another five pieces of content over the course of two months before Christmas. While the project itself looks rather ambitious, especially with Friday The 13th having so many issues during launch on consoles, one has to wonder if the dev team can actually pull all of this off or if some of these pieces will fall through the cracks int he coming months due to time constraints and required updates. In any case, it looks like an amazing set of goals with a lot of new content on the way for diehard fans of the game. Here's hoping it all goes off without a hitch.
Enjoyed this article? Share it!