In the Marvel Comics, S.H.I.E.L.D. is an international organisation that counts amongst its members, ex-KGB officers. So asking what the Russian equivalent of SHIELD is, is a misnomer. Or at least it was. As SHIELD has come more and more to represent American interests rather than worldwide concerns, things have changed a little, certainly in other media. Central Command in the cartoons has been seen as the Russian equivalent of a more US-centric SHIELD, for example. And in the Marvel's Agents Of SHIELD TV show, the US government has been shown as having authority over SHIELD.
And now, it seems, it's the comic book's turn to draw the line. And create its own Russian equivalent to SHIELD, making SHIELD very much an American/European body.
Oh and it has a name as well. Towards the end of today's X-Men Gold #11 by Marc Guggenheim, Lan Medina, Craig Yeung and Frank Martin, it gets mentioned, and named, for the first time. It's just a throwaway line, but could it have portent for things to come?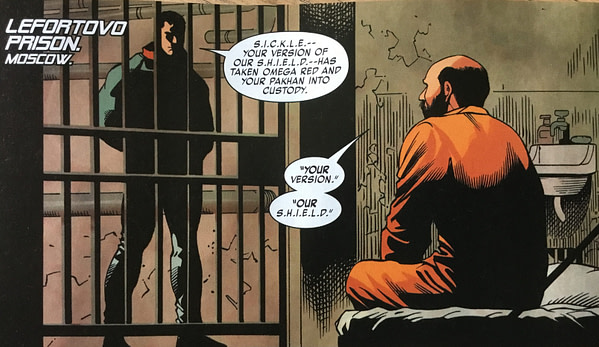 There we go folks. S.I.C.K.L.E. Not contrived at all. Well, probably as much as SHIELD, anyway. Anyone care to guess the words behind the SICKLE acronym?
X-MEN GOLD #11
(W) Marc Guggenheim (A) Lan Medina (CA) Dan Mora
• Soviet scourge OMEGA RED has returned!
•  But what does his return have to do with the reappearance of a relative COLOSSUS and MAGIK thought long lost?
• Can the X-Men trust ANATOLY RASPUTIN to help put Omega Red back in the grave? Or does he have ulterior motives for calling upon the X-Men?
Rated T+In Shops: Sep 06, 2017
SRP: $3.99
X-Men Gold #11 is published today by Marvel Comics.