We mentioned that Harley Quinn was changing its storylines to move their Vote Harley plot on a bit, where she stands for mayor of New York. Well, looks like Frank Cho is integrating that into one of his Harley Quinn variant covers…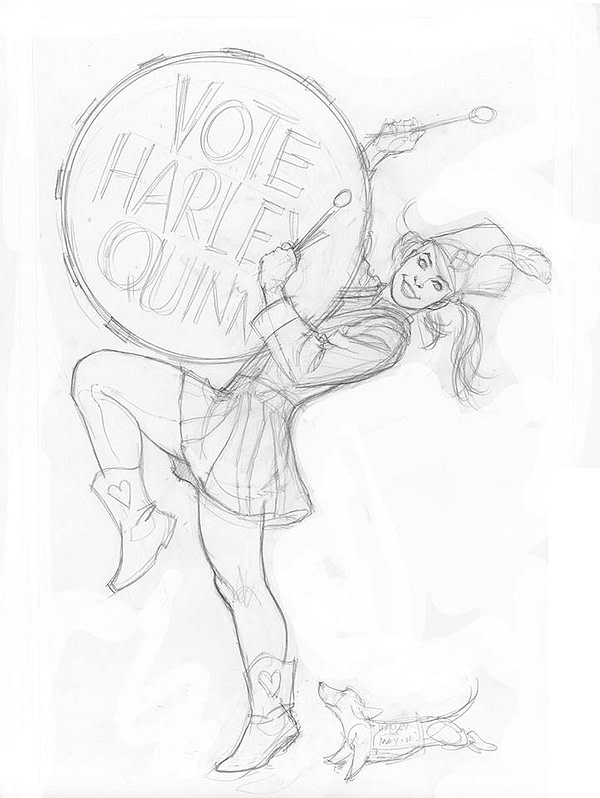 Though he does have a lot on his plate. He writes on Facebook:
"It's crunch time. I need to finish 4 covers and last 10 pages of Skybourne #5 before I leave for Singapore in a week. I guess I'm not sleeping all week."
His colourist wanted to have Frank's back, though. Marcio Menyz replied:
"Hi Frank! I don't know if the editors told you, but next week I'm also going on a trip, I'll only retake the color work when I comeback, on 09/16. So maybe this will help you have more time with the pages. I'm wondering.
Anyway, congrats on the beautiful pages and have a nice trip!"
He replied:
"Thanks, Mike. I'll get the covers done. It's Skybourne I'm worried about. Besides the art, I have to do color proofs, script and dialogue edits. I just want to make a big dent on it before I fly out."
Skybourne before you are skyborne, Frank?
Enjoyed this article? Share it!