It's been a minute since we've heard anything BioShock related beyond where former devs on the game are now employed. For a while, it seemed as if there would never be another BioShock game ever made or anything related to the series would see the light of day. Then 2K Game decided to shock everyone at Gamescom and announced that a special 10th Anniversary Collector's Edition was on the way.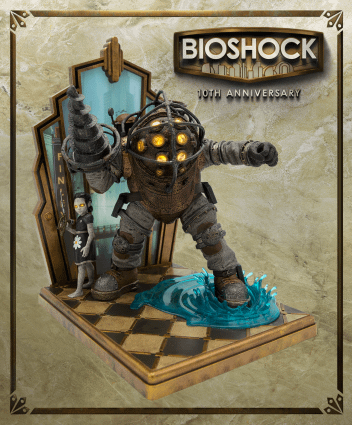 As you can see from the picture above, you're getting a Big Daddy and Little Sister statue to add to the collection of things you need on a shelf, standing at 11.9" tall. The trailer below shows off the complete trilogy of games, which will include all the single-player DLC and bonus content that has long since been forgotten, not to mention we're sure some additional assets will be added tot he box that we're not being told about.
There's no pricing set for the box, but we do know that it will be coming out on November 17th on PS4 and Xbox One. (Sorry, PC and Switch owners.) Hopefully, if this set is a success, it will lead to a new BioShock game somewhere down the road. One can only hope!