As I did last year, Bleeding Cool (as in, me) will be attending this year's Nine Worlds Geekfest in Hammersmith, London running from the 4th to the 6th of August. Dubbed the petri dish of the future of genre conventions, by Kieron Gillen, the show bends over to be accessible and enjoyable to all audiences, whatever their personal circumstances – and then find opportunities to turn that journey into part of the experience.
There's an emphasis on programming, with more panels, presentations and discussion than any other show in the UK, justifying the price tag with so much content. They boast 250 speakers and over 200 events in those three days. The only show I've seen with a great range and depth of content are San Diego Comic-Con and Angouleme and they are many, many times its size. Nine Worlds doesn't so much punch above its weight as create a brand new form of physics. It really is a worthwhile event and the community bonding is intense.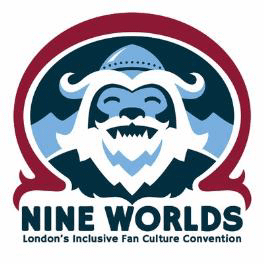 For 2017 they are featuring events that will cover (breath in) academic talks; architecture; meetups; Bifröst Cabaret; board gaming; books; cheese & cheese; comedy; comics; cosplay; crafting; creative writing; dealers' room; DJ sets; engineering; fandoms; fanworks; games design; hackers; history; knitting and yarncraft; LARPing; LGBTQAI+ culture; launch parties; movies; quizzes; signings; singalongs; social gaming; swordmaking; tea parties; technology; trains; TV; and video gaming, polished off with The Rock Club at the End of the Universe.
There is an extensive kids' programme including crafting; workshops; storytelling and games. There will also be ticketed workshops featuring swordpunk, jewellery-making and a mead tasting, and free sign-up sessions including the Inflatable Shark Olympics, which will be announced on the website.
We will be looking at specific panels of interest at Bleeding Cool over the next few days, but initial highlights include Avery Delaney's session discussing Queer Coding in Disney, a panel discussion on women's wrestling with EVE Producers Emily & Dann, and former champ Rhia O'Reilly, a talk by Dr Karen Graham on Cosplay by Stealth and historian John J Johnston's expanded version of his  paper on archaeological horrors in Doctor Who provide a tiny sample and example of the diversity of events on offer.
One of the aspects that sets Nine Worlds from other shows – and provides a road map for the future – is they way they  offer wide ranging access arrangements, including a quiet room, priority seating, a BSL signer and communication system, and anyone requiring assistance in order to attend is entitled to a complimentary personal assistant ticket.
Tickets are £119 for an adult three-day, but day tickets are also available for £49.99. Under 16s go free with a pre-booked ticket, but must be accompanied by an adult ticket-holder.
I'll see you there. After going last year, there's nothing that would keep me away…