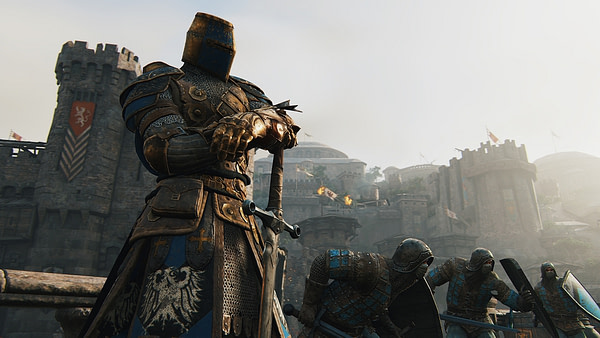 Ubisoft's For Honor has been widely criticized for a range of issues such as poor server stability, lack of balance, and unfair in-game prices on the game's microtransactions. Due to the numerous issues, reports claim that player numbers have decreased dramatically, though a new statement from a Ubisoft rep attempts to discredit this as mere rumor.
During a recent For Honor livestream, Ubisoft Community Developer Eric Pope announced the schedule for the game's latest patch, and included a reference to the reportedly low player counts:
"We have a lot of players in For Honor … Believe it or not, fake news people, we have a lot of players in For Honor – to roll it out to."
As GameRant remarks in their report, that's a bold statement to make in light of recent reports that say the game lost 50% of its Steam player base earlier this month, and numbers look to have only dropped further since then. However, despite the low percentages, For Honor launched with a large following of players who were excited about the game and its DLC season structure, which led to the game coming in second for overall 2017 sales numbers early this year. And with a large amount of players logging on solely through uPlay, it is completely possible that there are still a substantial amount of players logging in to the game every month.
Ubisoft has tried to bring back disillusioned players by scaling back their microtransactions and adding new characters to the game. Sadly, that appeared to be too little, too late. And the whole affair has the ring of the famous Hamlet line, "the lady doth protest too much."
As far as streaming numbers go, For Honor has tapered off like any other multiplayer or PvP focused title with a few notable exceptions. Initially, viewer numbers were very strong for the game, but as a meta formed around a small selection of characters and claims of imbalance grew, that popularity waned. Focus enough negativity onto a game, and most are going to crumble like a house of cards — flimsy cards riddled with microtransactions.
Of course, the representative didn't give any specific figures as to how well For Honor is doing, but I'd like to see if the game can prove itself to be more than just a short-term winter slump hit.