This contains MINOR spoilers for Spider-Man: Homecoming, though it was revealed in the trailers. Proceed with caution.
*
*
*
*
*
*
The trailers for Spider-Man: Homecoming have been giving away a lot, and one of them was the cameo of one Steve Rogers, AKA Captain America (Chris Evans). Steve actually shows up twice in the movie; once for a fitness challenge video, and then again in another short video scolding students for getting detention.
The cameos themselves are pretty pointless to the plot, but they do make Peter feels like he's part of the larger Marvel universe. Of course they would use Captain America for a fitness challenge; of course they would use a superhero to make dumb kids think about why they got detention. That just seems like the natural way of life.
Director Jon Watts explained to Cinema Blend about how the cameo came to be:
"I think that was my idea, to have the Captain America Fitness Challenge. You know, it's so collaborative. I really don't remember whose idea is what, at this point. But I just remember having the President's Fitness Challenge when I was in elementary school and middle school. You had to do different activities, and at the end of it, I think you got a little pin or a badge. I was like, 'How do we incorporate Captain America into high school?' You would have the Captain America Fitness Challenge .He would be the person teaching you about proper nutrition, and brushing your teeth. [Laughs]"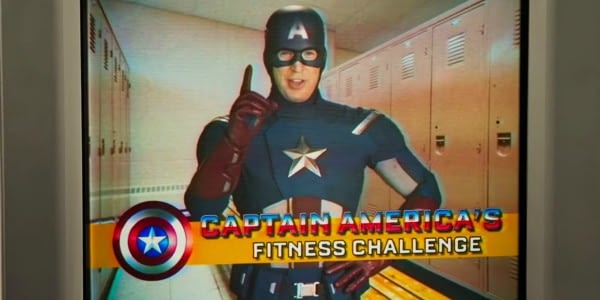 "When we shot those… you talk about feeling like you are filming a documentary? That's what it was like. It was like Captain America showed up. I generated so many of these dumb things, along with one of the other writers. We just wrote — everyone had ideas for things that Captain America could say [on screen]. So we just put them into a teleprompter, and had Evans stand there and really read through them. It's really funny, because Chris is so NOT like Captain America in person, but him being Cap and then just reading this stuff totally fresh, in that old costume, was so funny. It was all so very funny. … There's a very fun improv comedy to all of that. We shot so many more than are in the movie, too. Which will probably be on the Blu-ray someday."
More PSAs from Captain America? Yes, and please put those on the Blu-ray release.
Summary: Following the events of Captain America: Civil War (2016), Peter Parker attempts to balance his life in high school with his career as the web-slinging superhero Spider-Man.
Spider-Man: Homecoming, directed by Jon Watts, stars Tom Holland, Robert Downey Jr., Marisa Tomei, Donald Glover, Zendaya, Tony Revolori, and Michael Keaton. Swing on down to your local theater and check it out on July 7th.
Enjoyed this article? Share it!