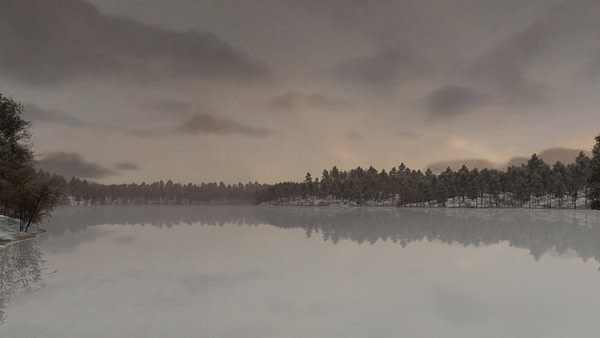 USC Game Innovation Lab revealed today that it will officially launch Walden, a game, which is an open-world narrative exploration adventure based on  transcendentalist philosopher Henry David Thoreau's classic book, Walden. You just have to love USC's gaming projects, as they often end up being incredibly inventive. But turning Walden into a game is not something I'd have ever expected to see. Thoreau's most well-known book is a reflection upon the two years Thoreau spent living alone at near Walden Pond, and the book is the culmination of Thoreau's principles of self-reliance. It is also one of the many examples given for the idea of universal moral principles, which is the highest form of moral reasoning on Lawrence Kohlberg's stages of moral development. But it's also worth noting that what Thoreau was protesting during his two years at Walden was not some kind of unconscionable depravity, but taxes. Granted the reason he was refusing to pay taxes had to do with those pesky things like basic human rights and war, but thats just details.
Regardless of how you view Thoreau's self-imposed tax-evasion exile, Walden, a game will release on July 4 for $18.45 on Windows PC and Mac. A near-final edition of the title, which can be upgraded to the latest version for no extra charge on July 4, is available now at www.WaldenGame.com and GameInnovationLab.itch.io/Walden.
Following in the footsteps of Thoreau's experiment living on the fruits of his labor in the idyllic woods of Walden Pond, Walden, a game invites players to survive the shifting seasons of New England, each with their own challenges. Build a shelter, grow your own food, go fishing, and discover the wildlife, terrain and people surrounding your newfound home in the forest. There is no right or wrong way to play; the adventure is designed to inspire players to reflect on and appreciate the life around and within ourselves in a uniquely personal experience. And naturally, players are tasked with putting Thoreau's principle of self-reliance to the test with the survivalist aspects of the game.
The story features the voice of actor Emile Hirsch (Into the Wild) as Thoreau, born 200 years ago this July, whose journey of personal freedom and natural exploration began on Independence Day, 1845.
Walden, a game was developed by game designer Tracy Fullerton and her team, with funding provided by the NEH, NEA and Sundance Institute. It is currently on exhibit at the Concord Museum near Walden Pond as part of the Museum's 2017 Thoreau Bicentennial celebration. The game is currently in development for consoles as well.
You can check out the game's launch trailer below.