With under two hours to go on ComicConnect, this stunning Pep Comics #30 original art cover by Archie legend Bob Montana is already at a little under $24K, which is rather impressive for this cover. Bob Montana art always fetches a good amount of money. I myself own a handful of his daily Archie newspaper strips, and each one was over $100.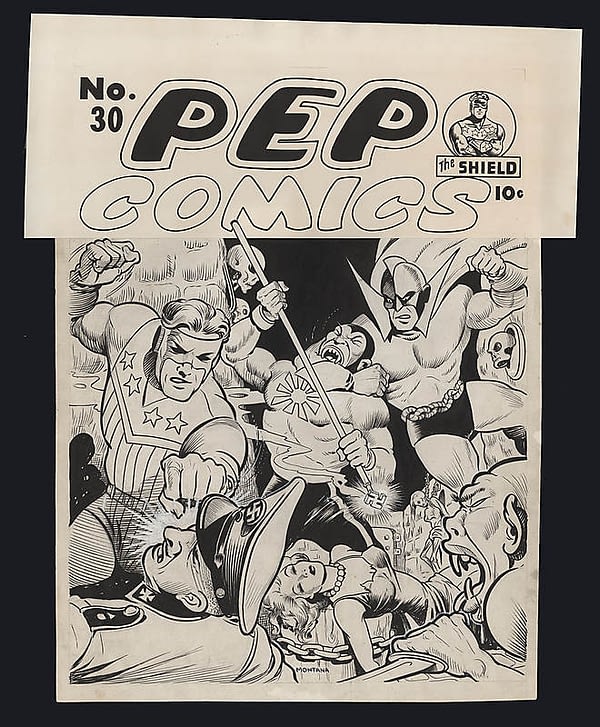 However, covers from Archie's golden age don't come up for sale too often. Comic Connect's description of the item sheds some great insight into this cover:
"PEP COMICS Issue #30 Cover
Publisher: MLJ Grade: VF: 8.0
This original Bob Montana cover from Pep Comics #30 might be the most-unique item in the Jon Berk auction. The cover features The Shield bashing a Nazi while the Hangman strangles a goon from the Land of the Rising Sun. Toss in a swastika branding iron and a beautiful gal in bondage and we've got an instant classic. Bob Montana, the illustrator of this piece, and the mastermind behind everyone's favorite teenager, Archie Andrews, is credited with both the pencils and inks on this action-packed cover.

Flat out, we don't believe there's another superhero Pep cover in existence. 'Not only have I never seen one, I've never even heard that one might be out there somewhere,' Stephen Fishler, ComicConnect's founder and original art expert explained. For collectors who like one-of-a-kind items, this is for you.

Archie fans are currently enjoying his resurgence in popularity with the new live-action, hit TV show Riverdale. Montana's role and influence in comicbook history can never be overstated. Side-note: A super-cool bonus that comes with this piece is the group of sketches and character studies on the back, likely by Montana as well!"
While I won't be bidding on this item, if you are, good luck! What an amazing item to have in any collection!