Spike Chunsoft recently made a post on a teaser site (which was translated by Gematsu) that the next Attack On Titan game will be coming sometime this year, most likely in the fall, for the 3DS in Japan. The game will officially be called Attack On Titan 2: Future Coordinates.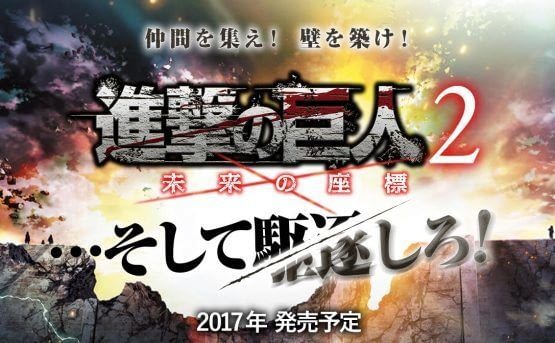 Getting any news on new content for Attack On Titan games is like pulling teeth sometimes, as the series as a whole has a rabid fanbase who have a habit of taking any small clip or tiny detail and turn it into some kind of breaking news as if they found the holy grail of spoilers. So Spike Chunsoft tend to play their cards close to the chest so as to not give anything away. The exact same can be said for this announcement, as the only thing seen in the announcement is a broken wall.
What we do know is that the game will be a sequel to Attack On Titan: Humanity In Chains, which made it's way to the 3DS in North America two years ago. Considering the company behind it and the popularity of the first title, you're likely to see the sequel be a copy of the original with some added features here and there, so people can get into it quickly without having to relearn a lot. Now we just have to wait until fall to see if we're right.
3DS『進撃の巨人2~未来の座標~』発売決定! ティザーサイトを公開しました。明日からはTVアニメ放送枠内でCMが放送されますのでお楽しみに! https://t.co/5atiuijryG pic.twitter.com/iw2bwoRouY

— 進撃の巨人2~未来の座標~公式 (@Shingeki_3DS_SC) June 2, 2017
Enjoyed this article? Share it!